Late last month the National Highway Traffic Safety Administration announced the release of a new safety app for Iphones and Ipod Touches called, SaferCar. The app's many safety features allow drivers instant access to information on everything from car seat safety and installation, to vehicle recalls.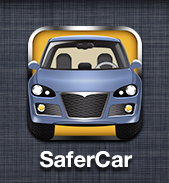 Not only has the NHTSA created this SaferCar app, that allows users instant access to a generous amount of data, but they have also given developers access to the data that powers the app through an Application Programming Interface (API). With this information, developers will be able to integrate the data into other applications also aimed at making the roads safer, and drivers more educated on safety issues pertaining to their vehicles.
The new SaferCar safety app will feature:
5-Star Safety Ratings: Consumers shopping for a new car will be able to quickly access safety ratings and compare vehicles, and make an informed decision.
Recall Notification: Users will be able to register their vehicle to receive notifications if a recall has been announced for any parts.
Complaint Filing: Drivers will have access to the NHTSA system for submitting safety complaints or other possible problems.
Child Seat Installation: Parents can quickly access directions to the nearest child seat inspection station, where they will be able to get assistance with installation of car and booster seats.
General Safety Headlines and Alerts: App users will be notified of NHTSA announcements, safety news, and any important information regarding their vehicles.
The NHTSA has additional plans for the SaferCar app. A version compatible for Android devices is in development, and the release of the API coincides with efforts to make information about important safety concerns widely available.
NHTSA Administrator David Strickland commented, "Timely, accurate, and accessible safety data is the lifeblood of our agency's work. The new SaferCar app literally puts the latest in vehicle safety information directly in the hands of consumers so they can make the appropriate purchasing and other decisions for themselves and their families."