Meet Mario D'Angelo, Esq.
Co-counsel for McIntyre Law Firm
---
Mario D'Angelo has led the fight against the biggest pharmaceutical firms in the country such as Wyeth Pharmaceuticals (formerly known as American Home Products), SmithKline Beecham also known as GlaxoSmithKline, and Johnson & Johnson recovering more than 250 million dollars for his clients within the last ten years.
It is the result of thousands of hours arguing these cases and fighting for what he believes is right and true in front of judge and jury alike since he was admitted to practice. A good portion of what he has accomplished has also come from traveling the globe, meeting personally with his clients and retaining the experts that are recognized to be the most trusted, knowledgeable and respected in their fields.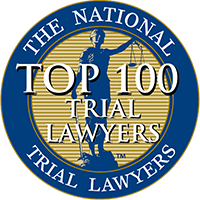 Professional Awards and Recognitions
Whether mass tort, product liability, general negligence or medical malpractice, Mario D'Angelo has left no stone unturned nor question unasked to get what his clients deserve from those who have wronged them. For this, he has just been certified as one of the Top 100 Trial Lawyers of 2008 from the American Trial Lawyers Association.
Mario D'Angelo, Esq. at a Glance
---
Employment:
2008-present Mario D'Angelo & Associates, LLC – Owner
2001-present Hariton & D'Angelo, LLP – Partner
1997-2001 Donner, Hariton & Berka PC – Attorney
1992-1997 Wingate, Russotti & Shapiro, LLP – Medical Malpractice Attorney
1989-1992 Brecher, Fishman, Feit & Heller Law Firm – Construction Litigation & Personal Injury Attorney
1985-1989 John Anthony Bonina & Associates – Medical Malpractice Attorney
Court Appointments:
2004 New Jersey Superior Court
In re Diet Drug Litigation
Appointed to Plaintiffs' Mgmt Committee
2001 Supreme Court of the State of New York,
County of New York
In re Rezulin Products Liability Litigation
Appointed to Plaintiffs' Mgmt Committee
1998 Supreme Court of the State of New York,
County of New York
In re New York Diet Drug Litigation
Appointed to Plaintiff's Mgmt Committee
Court Admissions:
2004 United States Court of Appeals for the Third Circuit
1988 NYS, State of New York
1988 United States District Court -Eastern District of New York
Pro Hac Vice Admissions: California, New Jersey, Oklahoma, Pennsylvania, Texas
Education:
1987 J.D. Brooklyn Law School
1984 B.A. State University College at Oneonta