https://www.youtube.com/watch?v=GAXB8eiqjs8
What to Know Before You File a Trucking Accident Lawsuit in Oklahoma
---
If you just got into a trucking accident in Oklahoma, contact McIntyre Law right away. We can refer you to a doctor who'll provide proper treatment and reliable records in your lawsuit. (Some primary care doctors choose not to testify at trials as a standard policy.) If your trucking accident happened awhile ago, and you've already gone through treatment, contact our tractor-trailer accident attorneys. We can help you collect all the medical records you'll need to file a lawsuit.

In order to file a semi-truck accident lawsuit in Oklahoma, you'll need to acquire legal papers, like petitions, summonses, or complaints. McIntyre Law can help you with that process. And if you lost a loved one in a trucking accident, we can help you get life insurance documents, loans to cover lost wages, and more.
At McIntyre Law, we've built a team that includes some of the top semi-truck accident lawyers in Oklahoma City, who are skilled in dealing with tractor-trailer collisions. We work tirelessly on behalf of our clients to protect them from being further victimized by the trucking company and/or their insurer. We search for the cause of the accident and, when necessary, call on nationally recognized experts to assist in our investigation. We won't stop working until our clients get the compensation they deserve.
Dealing with a trucking company
Putting an experienced legal team on your side is the best thing you can do after you've been injured by a tractor-trailer. If you get into a semi-truck accident, there's something you should know: You're not starting on a level playing field when dealing with a trucking company. When one of their semi-trucks crashes into a car, they automatically try to devalue the victim's claim from the get-go. That's why it's important to get the best truck accident attorneys in Oklahoma on your side.
What happens after a semi-truck accident?
Right after the semi-truck accident, the truck driver calls the dispatcher. The dispatcher will typically call the trucking company's "risk manager." The risk manager quickly reviews the situation and figures out ways to keep the accident from costing the trucking company too much money. Then, no matter the hour, a call goes out to a "rapid-response team" headed by a defense attorney here in Oklahoma. Many times, the trucking company's investigator and defense lawyer will arrive at the accident scene before the debris is even cleared.
Why should you contact an Oklahoma truck accident lawyer?
You and your lawyers are the only ones looking out for your best interests. That's why it's important to call us about your semi-truck accident right away. Our experienced Oklahoma truck accident lawyers will:
Collect critical evidence, such as witness testimonies and important information about the accident, truck driver's qualifications, and more.
Investigate and document the truck crash scene.
Determine who is liable for the accident, whether it be the driver, the trucking company, or a parts manufacturer.
Calculate your total damages and losses.
Identify and contact the insurance companies involved.
Negotiate a fair settlement.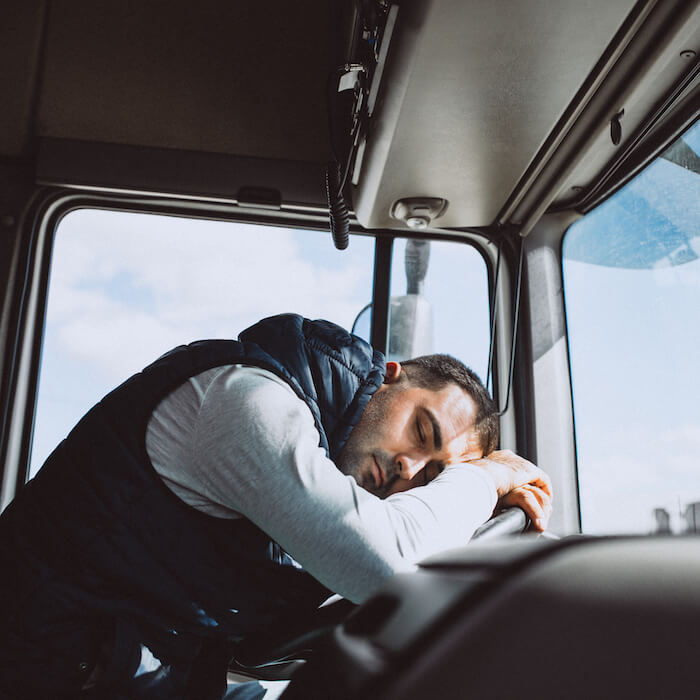 We recently helped a retiree recover
$4,250,000
in damages after his wife was killed in an accident caused by a tractor-trailer near Tulsa, Oklahoma. Our client was also injured, and in the aftermath, the trucking company and their insurance company offered him just $250,000 for his injuries and his wife's death. The difference between the original offer and the final payout shows you how hard freight companies try to limit payments to trucking accident victims. That's why you need the best attorney you can get.
From the outset, the trucking company is automatically going to try to reduce the amount of compensation you may receive as a result of your accident. It makes no difference how serious your injuries are. Even local law enforcement may not preserve all the evidence you'll need at trial.
But at McIntyre Law, we're determined to get the evidence you need for your case. For example, one of our attorneys went out to the scene of a crash, scoured the area, and found a trashed receipt that solved the case and won the lawsuit.
Our Oklahoma City truck accident attorneys can find and preserve critical evidence for your case — but they aren't alone. McIntyre Law will also bring in specialized investigators, like human factors experts, doctors, and cellular phone experts, to help you build the strongest case possible.
McIntyre Law knows what to look for and what to ask for.
It's hard to stand alone against businesses so big. Truck accident lawyers from McIntyre Law will make sure the trucking companies don't bully or take advantage of you. Our legal staff has the ability to discuss your case in Spanish, so if you need assistance, don't hesitate to contact us today.
What are the most common causes of semi-truck accidents?
As with car accidents, there are many possible causes of a semi-truck accident. But the types of trucking accidents that are most likely to result in compensation are ones resulting from driver error or trucking company negligence. The following are some examples of when a truck driver or trucking company may be held responsible for a collision:
Truck driver was distracted or wasn't paying attention. Driver distractions can include music, food, and the use of navigation systems, cell phones, and CB radio. Our semi-truck accident attorneys will use phone logs and witness testimonies to determine whether cell phone or CB radio use was a factor in your accident.
Tractor-trailer received poor or inadequate mechanical maintenance and/or inspection. Semi-trucks require routine mechanical maintenance performed by a professional and are legally required to undergo annual inspections. If your accident occurred because a trucking company tried cutting corners on maintenance or inspection, our tractor-trailer accident attorneys can hold them accountable.
Truck driver was suffering from fatigue. It's not uncommon for truck drivers to work long, demanding hours. This often leads to driver exhaustion and fatigue, which can result in poor judgment and an increased risk of accidents.
Trucking company used negligent hiring practices and/or failed to provide proper training. Trucking companies are supposed to properly screen prospective drivers before hiring. They must also train new semi-truck drivers on company policies and safety procedures. If they fail to run a background check or validate a driver's credentials, or fail to provide proper training, the trucking company may be at fault when the driver gets in a collision.
Trailer or flatbed was overloaded. Truck manufacturers determine the maximum amount of weight each truck can pull, known as its towing capacity. Exceeding a semi-truck's towing capacity can cause brake problems, tire blowouts, and other roadway hazards.
Driver wasn't following basic traffic safety. Semi-truck drivers may speed in an attempt to cut down on travel time and make some extra money. They may also tailgate other vehicles or neglect to use turn signals. Tractor-trailers that fail to follow basic traffic laws are a danger to everyone on the road.
Truck driver was unfamiliar with roads. Although some semi-truck drivers are assigned the same route every shift, others may have to regularly travel new routes. If they're not familiar with the roads in a given area, a collision may be more likely to occur.
The truck driver was tired or fell asleep while driving
Driver fatigue is a common cause of truck accidents in the United States, contributing to 13% of all commercial motor vehicle collisions. There are federal laws in place, known as hours of service (HOS) regulations, that are meant to limit instances of driver fatigue. But despite these rules, many drivers still end up getting tired or falling asleep on the job.
Many factors can lead to driver fatigue:
Long shifts that extend throughout the night
Frequently changing work schedules
Not stopping for breaks, especially on dull routes
Unhealthy lifestyle choices, such as a poor diet or drug use
Sleeping disorders, such as sleep apnea
Performing physically demanding tasks, like loading and unloading cargo
Pressure from trucking companies to ignore hours of service regulations
The trucking company didn't train or hire safe drivers
It's up to the trucking companies to make sure that the drivers they hire are qualified for the job and trained in company policies. This involves performing background checks, pulling criminal records, and carefully reviewing a driver's experience and credentials. Trucking companies should also be monitoring driving logs in order to ensure that drivers are acting safely and following federal guidelines.
Operating a tractor-trailer is a high-stakes job that requires a lot of specialized knowledge and skill. Trucking companies that fail to recognize this and try to cut corners during hiring and training can be held liable in the event of an accident. If you believe trucking company negligence played a role in your semi-truck collision, our Oklahoma truck accident lawyers have the tools and resources to prove it.
Who can be held liable in a truck accident?
Depending on what happened in your truck accident, there are several parties that may be held liable for your damages:
The truck driver
The trucking company
Insurance companies
Parts manufacturers
Cargo companies
It often takes a lot of research and investigation to determine who's responsible for a trucking accident. Getting help from a legal professional can relieve you of that burden. The Oklahoma truck accident lawyers at McIntyre Law know the process and will work to get you compensation from those who are responsible.
What compensation can I get from a trucking accident lawsuit in Oklahoma?
You may be entitled to recover the following if you're injured in a semi-truck accident in Oklahoma:
Cash awards
Property damages
Medical bills
Rehabilitation and surgery fees
Scarring or disfigurement
Mental suffering and psychological trauma
Lost wages
Loss of earning capacity
Pain and suffering
Loss of enjoyment of life
Some people are lucky enough to walk away from a car accident with minor injuries or no injuries at all. Not so often with semi-truck accidents. These vehicles weigh 10,000 pounds or more. An accident involving a tractor-trailer typically results in very serious injuries — and larger settlements than you might get after a car accident.
Working with McIntyre Law

Honesty, hard work, and compassion — those are the values that guide us at McIntyre Law. We strive to provide the best legal representation to trucking accident victims in Oklahoma and across the nation. We pledge to keep victims' best interests in mind and make the legal process as painless as possible for them and their families. Even though your wreck or lawsuit may happen in another state, our Oklahoma City truck accident attorneys will handle your case as if you were a next-door neighbor. Our founder and senior partner, Noble McIntyre, is always just one phone call away.
Do you have a case for a truck accident lawsuit in Oklahoma?
If you've suffered severe injuries or lost a loved one from a trucking accident in Oklahoma, you may be eligible to file a lawsuit. Calling our big-truck accident lawyers to find out won't take much time and won't cost anything. McIntyre Law works on a contingency fee basis, so we don't get paid unless you do. That means we won't charge you or waste your time if you can't win. If we take your case, we'll work hard to get you the compensation you deserve.
What is a contingency fee?
Lawyers who work on a contingency fee basis agree to accept a fixed percentage of any settlement or award from your lawsuit to cover their legal fees. If there are no rewards from your truck accident case, you don't owe a cent. We only get paid if you do.
Meet Our Oklahoma City Trucking Accident Attorneys
Our team is made up of some of the top truck accident attorneys in Oklahoma, and they're waiting to take your call.
Oklahoma's Statute of Limitations for a Truck Accident Lawsuit
If you're involved in a collision with a large truck in Oklahoma, you have a limited amount of time from the day of the accident to file a claim. In most states, it's at least a year. Most truck accident cases must be filed in Oklahoma within two years of the day of the accident.
But you should start the process of getting compensation for your injuries as soon as possible. Every day that goes by, evidence could be destroyed, and the pain and suffering you feel changes. Contact our semi-truck accident attorneys as soon as possible to file your claim.