Typical Slip-and-Fall Injuries
Slip-and-fall accidents can lead to several kinds of injuries, including the following:
Bruises and scrapes
Broken bones or fractures
Herniated disks
Spinal cord and neck injuries
Knee injuries
Head trauma and brain injuries
Wrongful death
These injuries can be devastating and, in some cases, trouble you for the rest of your life. That's why you need an experienced slip-and-fall lawyer to get you the compensation you deserve.
Common Causes of Slip-and-Falls
At McIntyre Law, our team of slip-and-fall attorneys in Oklahoma City and Tulsa are the best in the business. We routinely represent clients who've been severely injured in slip-and-fall accidents. These can happen pretty much anywhere, such as restaurants, stores, theaters, hotels, workplaces, and private homes. And there are many causes of slip-and-falls, including (but not limited to) the following:
Icy walkways
Wet/slippery floors
Poor lighting and decreased visibility
Cluttered floors and walkways
Sidewalk or parking lot potholes
Damaged staircases
Lack of handrails
Broken/warped floorboards
At McIntyre Law in Oklahoma City, our experienced team of local slip-and-fall attorneys are among the best in the state and ready to assist you through every aspect of your claim. We won't rest until the insurance company fairly compensates you for the injuries you've suffered.
Am I eligible for a slip-and-fall lawsuit in Oklahoma?
To file a slip-and-fall lawsuit in Oklahoma, the owner of the establishment where the slip-and-fall occurred must have:
caused a dangerous situation by their negligence,
known that it was a problem and disregarded it, and
been aware of the potentially dangerous outcomes (like a slip-and-fall).
In Oklahoma, a property owner must maintain it and make it safe for their guests, visitors, and customers. That includes keeping it safe from known dangers or other conditions that may cause injuries to people who have been invited or granted permission to be on the property. In Oklahoma, the standard for a slip-and-fall lawsuit is whether a reasonable person would have seen and appreciated the danger.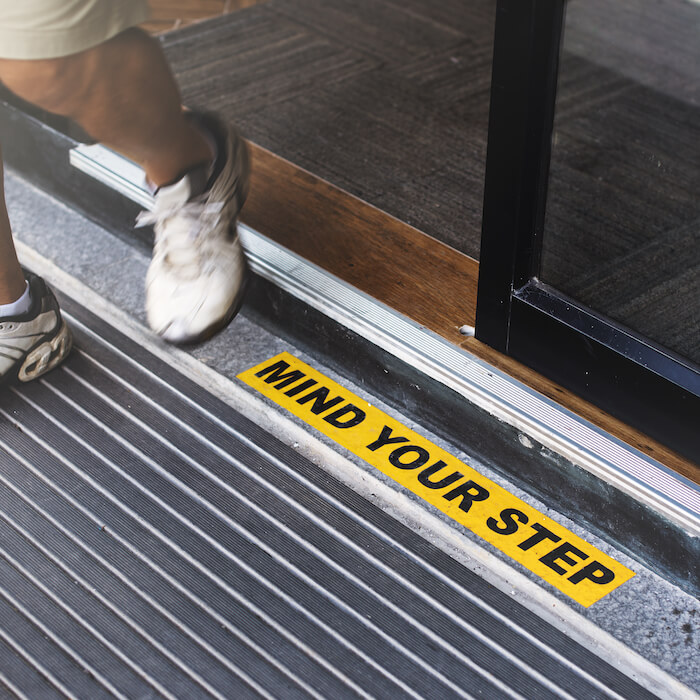 What is a contingency fee?
When lawyers work on a contingency fee basis, they're agreeing to accept a fixed percentage of any monetary rewards from your lawsuit to cover their legal fees. If there are no rewards from your case, you pay nothing. We only get paid if you do.
What to do after your slip-and-fall
You need to take urgent action after a slip-and-fall. Here's what our slip-and-fall attorneys recommend that Oklahomans do:
Seek immediate medical help. If you've been seriously injured in a slip-and-fall, seek emergency medical help as soon as possible. Calling 911 will ensure that your injury is treated immediately.
Report the incident. If the establishment where you had the slip-and-fall wants to file an incident report for their records, do so. This will help your slip-and-fall claim in Oklahoma courts, as long as you include all important information in the report, with no embellishment or exaggeration. Take pictures of the site where the fall happened, if possible.
Record witnesses. If there were others around you when you fell, collect their information so their account can be used in your case.
See a doctor. If you didn't immediately feel symptoms from your slip-and-fall, that doesn't necessarily mean that you weren't injured. Some slip-and-fall injuries, like a traumatic brain injury, can take longer to show.
Don't post to social media. Making your case public on social media isn't going to help a slip-and-fall claim. In Oklahoma, your social media posts can be used as evidence of your condition following a slip-and-fall and may hurt your case, especially if you downplay your symptoms to assure your friends that you're OK.
Contact McIntyre Law. Our slip-and-fall attorneys in Oklahoma City can help start your lawsuit today. The exceptional level of experience and personal care they show every client makes them the best in the state — and can make all the difference in the outcome of your slip-and-fall claim. Contact us today.
Why choose McIntyre Law for your slip-and-fall lawsuit in Oklahoma?

Every attorney in our firm believes in honesty, hard work, and compassion. We stick to a strict code of ethics while providing the best legal representation to slip-and-fall victims. And we pledge to keep the victims' best interests at heart as we work to make the legal process as painless as possible for the injured and their family. At McIntyre Law, you'll get the full attention of our slip-and-fall lawyers in Oklahoma City or Tulsa, and you'll have full access to our top law team at any time.
Meet Our Slip-and-Fall Attorneys
If you've been hurt in a slip-and-fall accident because of the negligence of others, contact us today for a free consultation.
Where in Oklahoma does McIntyre Law practice?
The slip-and-fall attorneys in our offices routinely handle cases throughout the entire state of Oklahoma, including the following cities:
Oklahoma City
Tulsa
Lawton
Edmond
Norman
Ardmore
Idabel
Shawnee
Stillwater
Midwest City
Moore
We work in counties including Oklahoma County, Tulsa County, Payne County, Cleveland and McCurtain County. No matter where you are in the state of Oklahoma, our slip-and-fall lawyers stand ready to help you.