What Happens After an Accident
It's hard to know what to do after an accident. They happen suddenly, and the adrenaline and shock can make thinking clearly very difficult. And yet, in the moments right after a collision — when you may be facing severe injuries or thousands of dollars of property damage — you'll face several serious questions and decisions you need to make.
You may be a driver in a two-car collision, a motorcyclist run off the road, a motorist rear-ended by a tractor-trailer, or a pedestrian struck by an automobile. But regardless, you'll need to know what to do after a vehicle accident — if it's not your fault or even if it is.
Here, we'll go through some of the common problems you may face and outline what to do if you're involved in an accident. Bookmark this page on your smartphone for quick reference in an emergency.
What should you do if you're involved in an accident?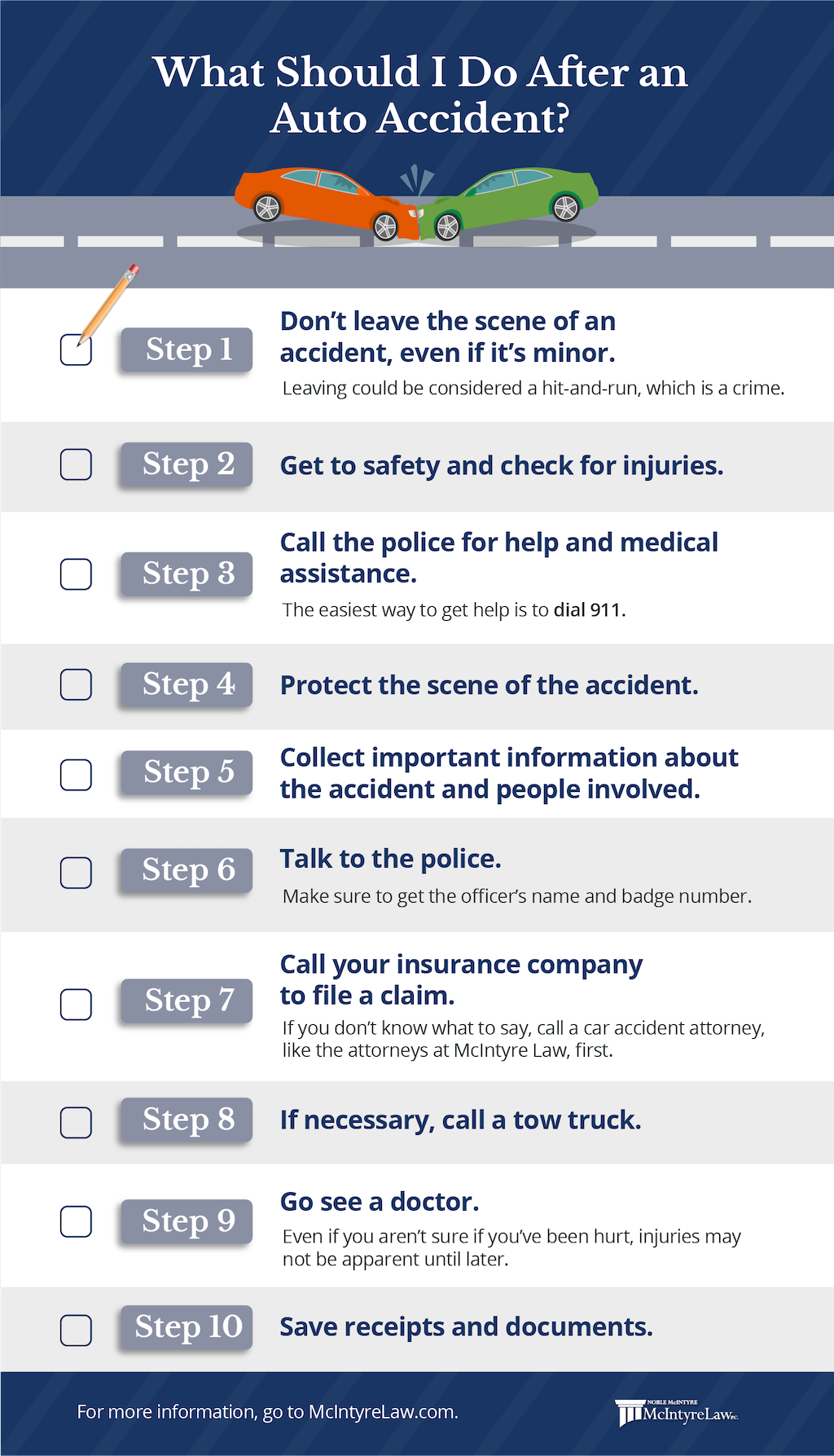 It can be hard to think clearly in the heat of the moment, so a checklist can be very helpful. Here are some general steps to take after a vehicle accident:
Download and print this checklist of what to do after a car accident and keep it in your glove compartment.
Don't leave the scene of an accident, even if it's minor. If you don't think anyone was hurt or there was that much damage, it's still safer to stay. Leaving could be considered a hit-and-run, which is a crime.
Get to safety and check for injuries. If your location puts you at risk of (further) injury, move to a safe place and check yourself, the other driver(s), passengers, and anyone else involved in the accident for injuries. If your vehicle is drivable and is blocking or posing a danger to traffic, move it to a safe spot nearby.
Call the police for help and medical assistance. The easiest way to get help is to dial 911. The police dispatcher can then send an officer and any other emergency services to the accident scene.
Protect the scene of the accident. As you wait for the police to arrive, put on hazard blinkers. If you have an emergency kit in your vehicle, set out flares or any other beacons to alert oncoming traffic to slow down. Do your best not to disturb any potential evidence before the police arrive.
Collect important information about the accident and people involved. You'll need to exchange names, contact information, and insurance information with the other driver(s) involved in the accident. You'll also want to collect your own evidence and talk to witnesses. This is especially important when the police can't show up to the accident scene.
Talk to the police. If law enforcement is dispatched to your accident scene, talk to the responding officer and answer their questions. Make sure to get the officer's name and badge number and ask how to get the police report when it's available. If the police choose not to come, take the information you gathered and file your own report later.
Call your insurance company to file a claim. Any delay in reporting an accident to your auto insurer could hurt your claim. Stick to the facts. Don't make any admissions or accusations. If you don't know what to say, call a car accident attorney first. If your vehicle needs to be towed, your insurer may require you to use a specific service as part of your policy.
If necessary, call a tow truck. Before the wrecker comes, take everything you need from the vehicle. Get information from the driver, including costs and where your vehicle is going.
Go see a doctor. Even if you don't think you've been hurt, it's a good idea to make sure. Injuries may not be apparent until later, and the sooner after the accident you can get documentation, the more likely you can get compensated for it by an insurer.
Save receipts and documents. You'll need proof of accident-related expenses and other developments to get full compensation from insurance.
What happens to vehicles after an accident?
---
What you would do after a minor accident is drive home after exchanging information and/or talking to the police, wait for the insurance adjuster to appraise the damage, and take your vehicle to the shop. If your automobile is undrivable, though, you'll need to get it towed. And if it's completely totaled, you may have to scramble to find new transportation.
What factors come into play when determining fault in an accident?
---
In some states, like Oklahoma, the driver who is responsible for the traffic accident (and their insurer) must pay for the resulting damage and medical bills. Determining fault isn't always easy, though. You may need to prove your case, which can depend on several factors and may require special steps to take after your vehicle accident.
What challenges will you face after an accident?
---
Automobile collisions can turn your life upside down. Some of the worst of what happens after a car accident can include loss of transportation, inability to work, and severe injuries that require extensive, costly treatment. Finding answers to difficult questions will be a big part of what you'll need to do after your accident.
Make sure you know your rights
There are so many important details to get right and big decisions to be made after a collision — and at a time when you may not be at your fittest and sharpest. Figuring out what to do after an accident about kitchen table issues, like missing work and getting your kids to school, is hard enough without adding insurance policy small print and legal technicalities.
With so much at stake, it makes sense to get the help of a lawyer who knows the ins and outs of traffic law and auto insurance. You need someone sticking up for your rights and working hard to get you the compensation you need. The experienced legal team at McIntyre Law will stand by you and fight for your ability to live in dignity and free of worry.