What to expect in an Oklahoma dog bite lawsuit
Typically, dog bite lawsuits are filed against the dog owner's insurance policy for failure to take reasonable steps to control or contain the animal, particularly if the dog is more prone to attack. However, many dog owners don't have insurance that will cover dog attacks. In those instances, local municipalities and apartment complexes have been found liable for animal attacks when they failed to protect residents from a known vicious animal.
Why should I choose McIntyre Law for my Oklahoma dog bite lawsuit?
Honesty, hard work, and compassion are the hallmarks of our law firm. We strive to provide the best legal representation to victims of Oklahoma dog bites while adhering to a strict code of ethics. We pledge to keep the victim's best interests in mind and make the legal process as painless as possible for the injured and their family. At McIntyre Law, you will get the full attention of our Oklahoma City dog bite lawyers and have access to our staff at any time.
What is a contingency fee?
Lawyers who work on a contingency fee basis agree to accept a fixed percentage of any monetary rewards from your lawsuit to cover their legal fees. If there are no rewards from your Oklahoma dog bite lawsuit, you don't pay. Simply put, we only get paid if you do.
What compensation can I get from a dog bite lawsuit in Oklahoma?
Winning a dog bite lawsuit in Oklahoma can result in compensation for damages including the following:
Medical expenses
Lost wages
Pain and suffering
Oklahoma Dog Bite Laws
---
Oklahoma dog bite laws apply "strict liability" when dogs attack and injure others. Strict liability means that there's no need to prove fault when a dog attacks you in Oklahoma. The only issues to prove are whether the dog in question actually bit the claimant and who owns the dog. Ownership is typically established through licensing or vaccination records. After that, all that's left is to figure out what the appropriate compensation should be for you or your loved one. The homeowners insurance policies of dog owners are supposed to compensate individuals injured from a dog bite in Oklahoma.
Sometimes, even municipalities are held partially responsible for dog attacks in Oklahoma. For example, a Washington state woman who was injured when a pit bull entered her home and attacked her two Jack Russell terriers was awarded $2.2 million in a dog bite lawsuit. The woman was bitten when she tried to force the attacking dog off her dogs. A jury found the owners of the pit bull 52% responsible for the animal attack and Pierce County 42% at fault for not responding to more than a dozen complaints by residents who believed the dog was a threat to public safety.
A knowledgeable Oklahoma City dog bite lawyer understands the importance of giving you, your child, or any other family member the best legal representation. While Oklahoma dog bite laws require strict liability concerning dogs that bite, proving negligence can be a challenging task. At McIntyre Law, our top Oklahoma City dog bite lawyers understand the importance of gathering evidence, consulting with doctors, and analyzing the long-term consequences a dog bite has on the victim and their family.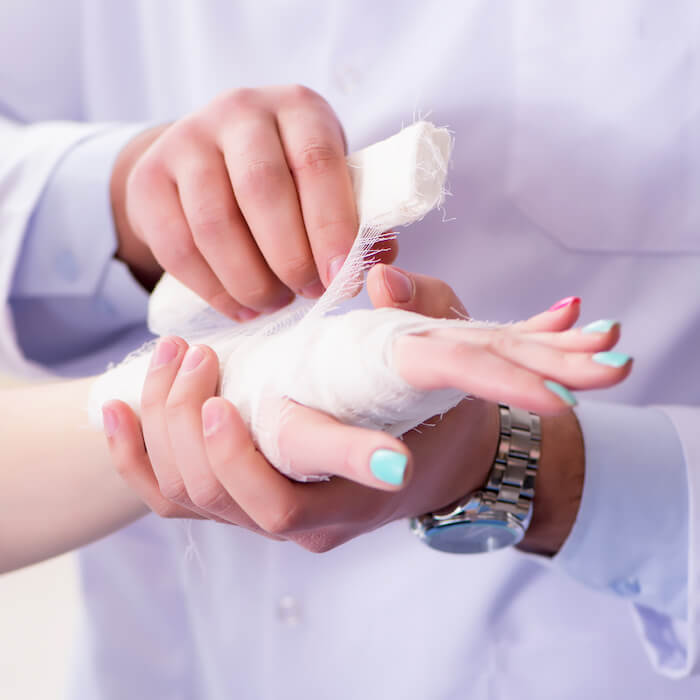 What are the most dangerous dog breeds?
Our team of top Oklahoma dog bite attorneys recognizes that any dog is capable of biting. Still, some breeds can be more aggressive and cause devastating mauling injuries. The following are a few common aggressive breeds involved in Oklahoma dog bite lawsuits:
Pit Bull
German Shepherd
Bull Terrier
Rottweiler
Doberman
Chow-chow
If you have been bitten by these breeds or any other dog in Oklahoma, don't hesitate to contact our team of top Oklahoma dog bite lawyers. We're prepared to defend your rights when owners have allowed these dangerous dogs to harm you, your child, or loved one.
Dog Attack Injuries
It's important to hire a lawyer who has experience litigating dog bite injuries in Oklahoma. The damage caused by maulings and other attacks can often be devastating. An experienced Oklahoma dog bite lawyer can ensure that you, your child, or your family member receives the appropriate compensation from the dog owner's homeowners insurance, allowing you to seek the appropriate medical treatment. Dog bite victims often require plastic surgery. These surgeries can consist of skin grafts and complete reconstructive surgeries. Our team of dog bite lawyers in Oklahoma City and Tulsa recognize the psychological effects of dog bites, and we're prepared to demand compensation that will provide counseling to help dog bite victims in Oklahoma to cope with their injuries.
Meet Our Oklahoma City Dog Bite Attorneys
If you or someone you know has suffered because of an irresponsible pet owner, please contact our dog bite lawyers in Oklahoma City.
Where in the state of Oklahoma do the dog bite lawyers at McIntyre Law practice?
The Oklahoma dog bite attorneys in our office routinely handle cases throughout the state of Oklahoma, including:
Oklahoma City
Tulsa
Lawton
Edmond
Norman
Ardmore
Idabel
Shawnee
Stillwater
Midwest City
Moore.
We practice in counties including Oklahoma County, Tulsa County, Payne County, Cleveland County, and McCurtain County. No matter where you are in the state of Oklahoma, our dog bite lawyers stand ready to help you.