What is a CPAP machine?
CPAP, BiPAP, and ventilator machines are all designed to help individuals with sleeping and respiratory issues. But there are some differences in the way each device works:
Continuous Positive Airway Pressure (CPAP) machine. CPAP machines keep your airway open by delivering a steady flow of air through a tube and a mask. These machines are most commonly used to treat patients with obstructive sleep apnea.
Bilevel Positive Airway Pressure (BiPAP) machine. BiPAP machines work similarly to CPAP machines, but instead of delivering continuous air pressure, the pressure is higher when you breathe in and lower when you breathe out. These machines can be effective for treating COPD and breathing problems caused by neurological disorders.
Continuous and non-continuous ventilators. Ventilators move air in and out of your lungs through a mask or breathing tube. They're primarily used in hospitals and ambulances to assist individuals who are unable to breathe on their own.
How are CPAP machines used on patients?
CPAP machines are a form of breathing treatment typically used for individuals with sleep apnea. Pressurized air is sent from the machine into the patient's airways, keeping it free from any blockages and allowing for an uninterrupted night's sleep. BiPAP machines are an alternative to CPAP machines and may be used to treat more serious or complex breathing disorders.
Philips Respironics is one of the leading manufacturers of CPAP, BiPAP, and ventilator machines. However, they've been forced to recall a number of their devices due to potential health complications, such as the development of lung disease and cancer.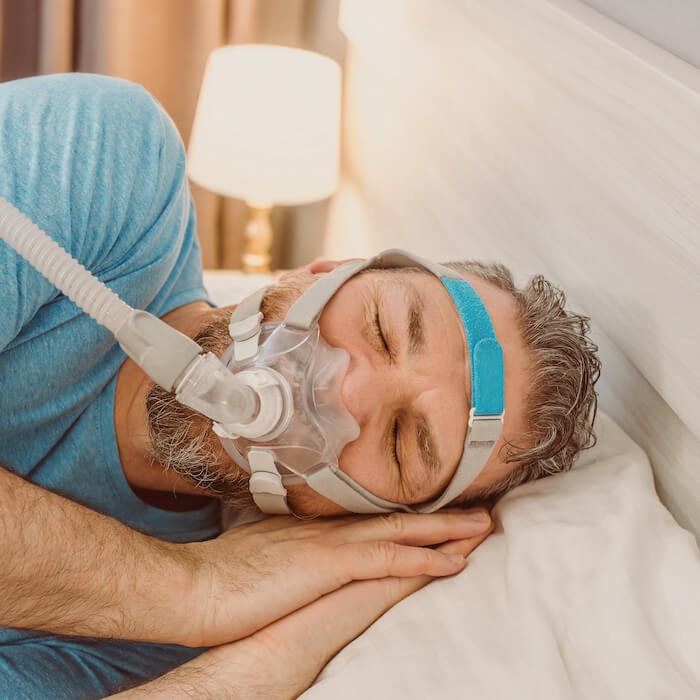 Philips CPAP recall list
Recalled Philips CPAP & BiPAP devices:
DreamStation ASV
DreamStation ST, AVAPS
SystemOne ASV4
C-Series ASV
C-Series S/T and AVAPS
OmniLab Advanced+
SystemOne (Q Series)
DreamStation
DreamStation Go
Dorma 400
Dorma 500
REMstar SE Auto
E30 (granted an Emergency Use Authorization due to COVID-19)
Recalled Philips ventilators:
Trilogy 100 & 200
Garbin Plus, Aeris, LifeVent
A-Series BiPAP V30 Auto
A-Series BiPAP A40
A-Series BiPAP A30
A-Series BiPAP Hybrid A30 (not marketed in the U.S.)
Side Effects From Philips CPAP Foam Particles and Chemicals
The CPAP, BiPAP, and ventilator devices recalled by Philips Respironics were made using polyester-based polyurethane, or PE-PUR, foam. This foam, which is designed to limit sound and vibration during use, can break down over time and release harmful particles and chemicals into patients' airways.
Possible side effects from ingesting or inhaling CPAP particles and chemicals include:
Damage to lungs, kidney, or liver
Potential carcinogenic effects (cancer)
Respiratory infection or upper airway irritation
Sinus infection
Cough accompanied by pressure in chest
Headaches and dizziness
Irritated nose, eyes, and/or skin
Asthma
Inflammation
Nausea and vomiting
Do Philips CPAP machines cause cancer?
It's possible that the machines on Philips' CPAP recall list could have cancer-causing effects. These devices were all manufactured with PE-PUR foam, which can deteriorate and present a variety of health issues when swallowed or inhaled. Among these are an increased risk of lung, kidney, and liver cancer.
If you've been diagnosed with cancer or other serious health complications after using a Philips CPAP machine, you deserve to be compensated for your injuries. Contact our experienced product liability attorneys today to get your case started.
Working with McIntyre Law
---

Many people rely on CPAP, BiPAP, and ventilator devices to help with sleeping or breathing problems. However, some individuals are now suffering from the side-effects of these machines. Those who have been affected should be compensated for their injuries, and we're here to make sure that happens.
The attorneys at McIntyre Law have the knowledge and experience it takes to hold big corporations accountable for their negligence. And they're ready to put their skills to work on your Philips CPAP recall lawsuit.

Do you have a case for a CPAP Recall lawsuit?
Though everyone's situation will vary, you may be eligible to file a CPAP lawsuit against Philips if you:
Use or have used one of the CPAP, BiPAP, or ventilator devices recalled by Philips Respironics;
Developed cancer, respiratory infections, or other serious health issues after using one of these devices;
Stored and maintained your device according to the product's specifications.
If you're unsure whether you or a loved one qualifies for a lawsuit, we can help. Contact us anytime for a free consultation with one of our expert attorneys.
Is there currently a CPAP class-action lawsuit?
In June 2021, a class-action lawsuit was filed against Philips Respironics. The lawsuit claims that Philips was aware of the various health risks associated with the PE-PUR foam used in their products, but decided to use the material despite these risks. Now, victims are seeking compensation for medical expenses, attorney fees, and other damages.
How is a CPAP class-action lawsuit different from an individual case?
There are some key differences between a class-action lawsuit and an individual case. Class-action lawsuits, for example, are filed by one or more individuals on behalf of a larger group of plaintiffs, all of whom have similar damages and claims. If the lawsuit is decided in favor of the plaintiffs and a settlement is won, it gets split between all plaintiffs being represented.
Those who have been affected are allowed to join a class-action lawsuit regardless of where they live or where the lawsuit is being filed. Similarly, McIntyre Law takes cases from individuals all over the country, meaning you can access the best legal representation no matter where you're located. Our team is dedicated to offering personalized service and is always just a phone call away.
What to Know Before You File a Lawsuit
When it comes to product liability lawsuits, such as a Philips CPAP recall lawsuit, it's up to the plaintiff to show the courts how they were harmed. So, in order to build a worthwhile case, you'll need to have evidence proving that:
You suffered injuries or other damages.
Your Philips CPAP, BiPAP, or ventilator device was defective or lacked safety warnings.
The device's defect or lack of warning resulted in your injuries.
You followed the manufacturer's instructions and used the product correctly.
This process can be lengthy and difficult to complete, often requiring you to collect medical records and other documentation about your medical history. That's not to mention all the legal documents that have to be submitted to the courts, such as petitions and summons.
Though it's possible to handle this process without help, big corporations like Philips Respironics often have access to powerful and experienced legal teams. That said, it pays to have a knowledgeable product liability attorney on your side. The CPAP attorneys at McIntyre Law know the court system and can help you gather all the evidence you'll need to build a winning case.
Meet Our CPAP Recall Attorneys
Our expert legal team has the experience and resources needed to defend your rights. We know the stakes are high, and we're prepared to do everything in our power to win you compensation.
The Oklahoma Statute of Limitations for CPAP Recall Lawsuits
Once your injuries have been discovered and documented, you have a limited amount of time to file your lawsuit. This is known as a statute of limitations, and it will vary based on the type of lawsuit you're filing, as well as your state of residence.
For example, if you want to file a Philips CPAP recall lawsuit in Oklahoma, the courts give you two years from when you first notice symptoms to submit your claim. That's why it's important to contact an attorney and get the process started as soon as possible.
Compensation for CPAP-related Diseases
Those who have suffered injuries related to a Philips CPAP machine could be eligible to receive a settlement. But before you file a lawsuit, it's helpful to know what you stand to win should the courts rule in your favor.
Types of compensation for a CPAP recall lawsuit may include:
Past and future medical bills
Missed wages
Emotional damages
Pain and suffering
Attorney fees