https://www.youtube.com/watch?v=87uPgjyOwsU
Working with McIntyre Law
---

The McIntyre Law team has been practicing in Oklahoma for many years, and a major part of our success is that we've invested time and energy into cultivating relationships with lawyers statewide who can work with you to get the best possible results for your Oklahoma workers' compensation claim. That's why, if you're looking for an Oklahoma worker's compensation attorney, McIntyre Law should be your first call. We'll tap our extensive resources and contacts to connect you with the best possible people to manage your Oklahoma workers' comp case.
What is a contingency fee?
When lawyers work on a contingency fee basis — as the Oklahoma City workers' compensation attorneys at McIntyre Law do — they're agreeing to accept a fixed percentage of any monetary rewards from your lawsuit to cover their legal fees. If there are no rewards from your Oklahoma workers' compensation case, you don't pay a nickel. We only get paid if you do.
Do I need a workers' compensation attorney in Oklahoma?
Even if you thought that the case might be simple and easily resolved, the moment that any wrinkle or complexity is introduced, it's time to retain an Oklahoma workers' compensation attorney. Here are just a few situations that would be a good time to make that call:
Your employer denies your claim.
You didn't receive your Oklahoma workers' compensation benefits promptly.
Your employer's offer to settle doesn't cover all your lost wages or medical expenses.
Ongoing medical issues prevent you from returning to work.
You're already receiving Social Security. Sometimes, Social Security is entitled to a portion of your benefits. Your Oklahoma workers' compensation lawyer will know how to structure your settlement in a way that minimizes that offset.
You're fired, you're demoted, hours are reduced, pay is reduced, or you face any other kind of discrimination or retaliation because you filed an Oklahoma workers' compensation claim.
In addition to any of these scenarios, sometimes there's potential for a third-party claim. Workers' compensation insurance in Oklahoma is designed to compensate workers for injuries but keep them out of the general court system. Sometimes, though, there's negligence by someone other than your employer, and in that case, Oklahoma workers' compensation is not enough by itself. For example, if you're a truck driver who is involved in a truck collision while on the job, you should be able to collect not only from your employer but also from the motorist who caused the collision. Noneconomic harms like pain and suffering aren't covered by workers' compensation, but they could be recovered in an Oklahoma personal injury lawsuit. If there's a possibility that other parties are involved besides your employer, a third-party claim would be appropriate.

Continuing Medical Issues Due to Workplace Injury
For many people who are injured on the job in Oklahoma, the top priority is being able to return to work. Depending on how badly you're injured, you could be facing permanent partial disability or permanent total disability. If that's the case, you could be entitled to either lifetime weekly payments or a single lump sum that makes up for your lost wages. These payouts are expensive, even for a deep-pocketed insurance company, so they'll do whatever they can to avoid them. An insurance company will always be looking to minimize your injuries so that it can pay as little as possible. For you, the hardworking individual who could be facing reduced wages or no wages for life because of an injury sustained at work, that is unacceptable. That's why you need to consult a qualified, experienced Oklahoma City workers' compensation lawyer at McIntyre Law today. We'll help you get the resources you need for a successful Oklahoma workers' compensation claim.
The Importance of Workers' Compensation in the Construction Industry
The construction industry is an essential component of our country's economy. Overall, nearly 6.5 million people work at approximately 252,000 construction sites across our nation each day. It's also a very dangerous industry and contributes greatly to the number of people who must use workers' compensation benefits.
Oklahoma workers' compensation laws state that if you've been injured on the job and you're unable to work for more than seven calendar days, you're eligible for weekly benefits amounting to 70% of your average weekly wage, up to the maximum set by law.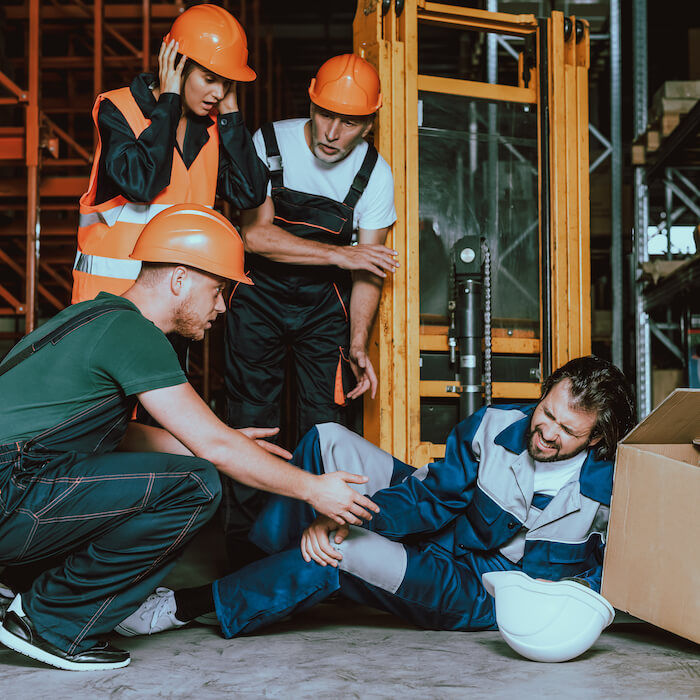 Unfortunately, the construction industry also has a fatal injury rate higher than the national average in this category for all industries. In Oklahoma from 1998–2008, 82 people were killed in construction-related incidents. Construction-related deaths accounted for 7% of all work-related deaths in Oklahoma during that period.
Meet Our Oklahoma Workers' Compensation Attorneys
If you've been injured on the job, contact us so our workman's comp lawyers can help you receive the compensation you deserve.
Could I handle my own workmen's compensation lawsuit?
It could be possible, in some circumstances, to represent yourself for an Oklahoma workers' compensation claim. These could include the following circumstances:
Your injury is minor, like a cut that required just a few stitches, or a pulled muscle that requires no treatment
Your injury didn't cause you to miss work
Your employer takes immediate and full responsibility by admitting that the injury happened on the job
You have no relevant preexisting conditions
If you're certain that there will be no lingering effects or ongoing or delayed medical treatment necessary and that there are no additional aggravating factors, it might be worthwhile to represent yourself. However, in most circumstances, it would be wise to retain one of our Oklahoma workman's comp lawyers to achieve the best possible result.