https://www.youtube.com/watch?v=kMyNQgqZlyA
What to Know Before You File a Car Accident Lawsuit
---

If you were just injured in a car accident in the state of Oklahoma, contact us right now. We can refer you to a doctor who will provide proper treatment, keep reliable records, and be willing to testify in the event of a lawsuit. (Some primary care doctors choose not to testify in lawsuits as a matter of policy.)
If your accident happened a while ago in Oklahoma and you've already gone through treatment, the car accident attorneys at McIntyre Law can still help you collect medical records and file a lawsuit to recover medical expenses and other costs associated with a car accident.
You'll have to contact your insurance company to tell them what happened — but take their advice with a grain of salt. They aren't necessarily trying to get the best deal for you. Only you or your attorney will do that.
The claims process for a car accident in Oklahoma isn't always easy or fair. Even if you're not at fault, the other driver's insurance company will always try to compensate you as little as possible for your claim. Going head-to-head with an insurance adjuster who has probably processed hundreds of cases exactly like yours is an uphill battle. That's why an experienced Oklahoma car accident attorney is your best ally.
No one looks forward to filing a lawsuit after going through a car accident. You would much rather just have the insurance company send you a check for your losses. Still, sometimes a car accident lawsuit is the only way to get compensated for damages and medical expenses.
Starting a lawsuit is no easy task.
You need to file specific types of papers, like petitions and summonses, and you have to file them with the right court, at the right time. Our experienced team of car accident attorneys in Oklahoma City will help you.
What to Do After Your Car Accident in Oklahoma

The first thing you should do after a car accident is to see if anyone has been injured. If so, call 911 immediately for medical assistance, regardless of how minor. Even if you don't think anyone is injured, it's a good idea to call 911 to get police on the scene. This is important for two reasons:
If the accident is in traffic or could potentially change the traffic pattern, you need officers on hand to direct.
It's important to have a police report filed for any car accident, no matter how small. Even if you think that there's no damage to your vehicle, there could be damage to the interior that you can't see. You don't want to find out later that something in your car isn't working as a result of the collision and now you've got no records. Once you leave the scene of the car accident, the evidence is gone forever.
Once you've made sure that the injured individuals are getting the medical help they need, you then want to make sure that you're getting the specific information that you need to file a car accident claim in Oklahoma. Never leave the scene of a car accident (unless you're taken to a hospital) without getting all necessary information about the accident.
Important information to get at the scene of a car accident in Oklahoma:
Names, driver's license numbers, contact information, and insurance information for every driver involved.
Insurance information for every vehicle involved in the crash.
Names and contact information for everyone who witnessed the car accident. This can include passengers in the involved vehicles and bystanders or drivers of uninvolved vehicles.
If you suspect that any driver involved in the crash was distracted by using a mobile phone (or any other distraction) or was under the influence of alcohol or other drugs, tell the police immediately. You should tell the police officer and any medical professional exactly how you're feeling. This isn't the time to act tough — shrugging off your injuries as "no big deal" could keep you from getting the compensation you deserve. Don't pretend everything is fine when it's not. All car accidents are traumatic.
If you're reading this after you left the scene of the accident and you didn't do any of these things, that's okay. Just make sure you call us right away. We handle these types of situations all the time, and we can help get things back on track for you.
Oklahoma's Statute of Limitations for Car Accident Lawsuits
The statute of limitations for filing a car accident lawsuit in Oklahoma is two years from the date of the accident. But the best time to assess your injuries is in the hours and days immediately after the accident. How will a doctor testify about the pain you felt after the car accident if they don't see you until a month later? Will you have the right type of records — including photo evidence — that are admissible in court? The sooner you seek legal assistance, the stronger your case will be.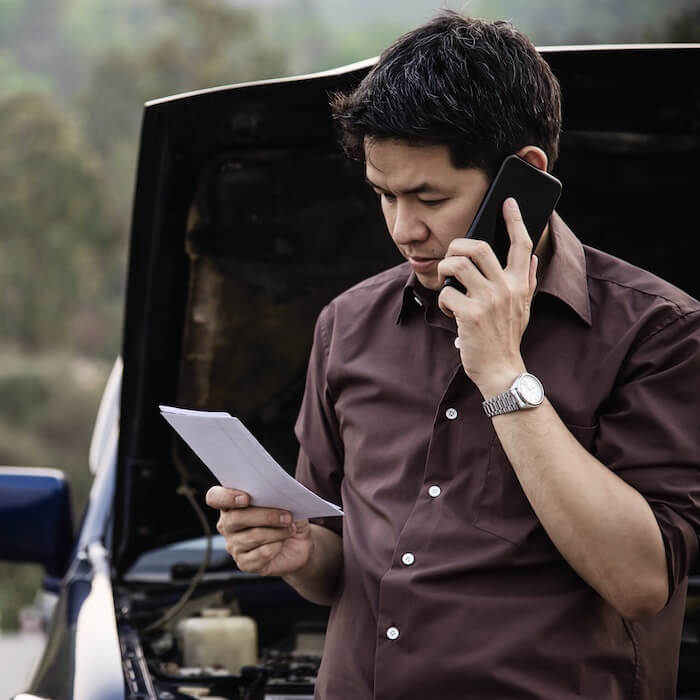 What compensation can I get from a car accident lawsuit?
The state's courts decide how much compensation is awarded in car accident lawsuits in Oklahoma. It won't just be for the damage to your car and your medical bills. Fair compensation includes all the ways you've been affected after the accident. Compensation types include the following:
Medical bills
Lost work time
Future living expenses
Working with McIntyre Law
---
At McIntyre Law, we know firsthand how a car accident injury can change a person's life in an instant. You deserve compensation for your suffering and the impact on your family. When you work with McIntyre Law, you're getting experienced Oklahoma car accident attorneys and professionals who want to make sure you're properly represented in your lawsuit.
Do you have a case for a car accident lawsuit in Oklahoma?
If you were hurt in a car accident in Oklahoma — even if it's been months since it happened — don't think twice about calling us. We're experts at these situations and can tell you right away whether you can file a lawsuit.
If you aren't getting what you deserve from the insurance companies, call us. We can deal with them and get you fair compensation. We aren't going to waste your time or drag you into a case we don't think you can win. We'll respect your time and give you advice that helps.
What is a contingency fee?
When a lawyer works on a contingency fee basis, they're agreeing to accept a fixed percentage of any monetary rewards from your lawsuit to cover their legal fees. If there are no rewards from your car accident lawsuit, you don't pay. We only get paid if you do.
Meet Our Car Accident Attorneys
Give yourself the best chance to get fair compensation for your injuries. Call today and talk to our experienced Oklahoma car accident attorneys.
Common Types of Car Accidents
No two car accidents are the same. Here are the types of collisions that often lead to victims receiving compensation.
Some common types of car accidents are:
Side-impact collisions
Single-car accidents
Car vs. bicycle
Commercial or company vehicle accidents
Distracted driving
Car vs. motorcycle
Drunk-driving accidents
Hit-and-run accidents
Multiple-vehicle crashes/pileups
Pedestrian accidents
Uninsured/underinsured motorists (UM/UIM)
Rear-end collisions
T-bone collisions
Vehicle rollover
Speeding collisions
Types of Car Accident Injuries
The aftereffects of a car accident can be as bad — or worse — than the pain you feel right away. Serious car accidents can cause catastrophic injuries. But even if you walk away from a bad wreck, you should contact an experienced car accident attorney in case more severe injuries appear later.
Some common car accident injuries that result in compensation:
Bruises
Fractures
Meniscus tears
Hip fractures
Bruised organs
Sprained or broken bones
Whiplash
Strained muscles
Disk injuries
Partial or full vision loss
Facial fractures
Eye injuries
Post-traumatic stress disorder (PTSD)