Nursing home negligence law in Oklahoma
Nursing homes are legally responsible for ensuring the safety and well-being of their residents. The Nursing Home Care Act and Long-Term Care Security Act lays out various laws and regulations that facilities in Oklahoma must follow. For example, nursing homes in Oklahoma are required to:
Obtain and renew the proper licenses and certifications
Meet the state's fire safety standards
Openly display current licenses and other documents
Undergo annual inspections from the State Department of Health
Resolve any State Department of Health violations in a timely manner
Hire qualified and competent nurses
Uphold residents' rights
Whether by accident or on purpose, failing to meet these standards could lead to patient abuse and neglect. Some specific actions that can make a nursing home liable for patient mistreatment include:
Poor or negligent hiring practices
Lack of safety procedures and policies
Inadequate staff training
Lack of resident and staff supervision
Improper security measures
Providing insufficient medical care to patients
Failing to discipline staff who violate policies
Lack of proper facility maintenance
New coronavirus cases in nursing homes emerge every day
Due to the COVID-19 pandemic, some families may not be able to visit their loved ones in nursing homes and long-term care facilities. For the individual in the nursing home, this can mean months of social isolation and depression. And with fewer people coming to check on their loved ones, cases of nursing home negligence may be going unnoticed.
The coronavirus has had some devastating effects on nursing homes across the country, causing the deaths of more than 50,000 patients to date. In some of these cases, negligence is believed to have been a factor. For example, a nursing home negligence lawsuit filed against an Illinois nursing home claims that they failed to properly test residents and enforce social distancing. At one point, more than a quarter of the residents had died from coronavirus complications.
If your loved one contracted COVID-19 in a nursing home, McIntyre Law can help. Our nursing home neglect lawyers will investigate the situation, gather evidence, and fight to get you a settlement for your nursing home negligence lawsuit.
What is considered nursing home neglect and abuse?
Generally, nursing home neglect is defined as the failure to meet a patient's needs or provide appropriate care. Nursing home abuse in Oklahoma rises to a higher level: It's when a nursing home staff member (or members) takes steps that actively harm a patient.
The types of nursing home neglect
There are four basic types of nursing home negligence:
1. Failure to meet basic needs
The nursing home is required to provide food, water, and a safe, clean environment for each resident. If this doesn't happen, it's neglecting a resident's basic needs.
2. Not enough help with personal hygiene
The patient doesn't receive adequate assistance in order to have clean laundry, bathe, brush their teeth, or complete other personal cleanliness habits.
3. Emotional or social nursing home neglect
The patient is ignored or treated harshly or with a lack of empathy or understanding of their basic needs and feelings.
4. Medical nursing home neglect
It's the role of a nursing home to provide medical attention, prevention, and medication for bed sores, infections, cuts, complications from diabetes, cognitive diseases, and mobility issues. Failure to provide proper attention to these needs is medical neglect. If the patient is harmed due to inadequate medical attention, there may be a case against the nursing home for medical malpractice.
Nursing home abuse cases in Oklahoma
Nursing home abuse in Oklahoma is even more serious than neglect, and could include any or all of the following:
Hitting
Use of physical force
Inappropriate use of restraints
Ridicule or humiliation
Manipulation
Stealing money or bank account numbers
Any other abusive behavior
A resident in a nursing home could experience physical, emotional, sexual, or financial abuse. If you suspect that's happening, you should contact one of our nursing home abuse lawyers in Oklahoma City right away.
Cases of nursing home wrongful death
In some cases, nursing home abuse and neglect results in the wrongful death of a patient. Depending on what caused the death, the responsibility could fall on the nurses, nursing home owners, or caretakers of the premises. Nursing homes sometimes try to cover up instances of wrongful death. They may attempt to tell you the death resulted from natural causes or an underlying medical issue.
Cases of wrongful death in nursing homes are common. If you suspect that nursing home abuse or negligence led to your loved one's death, McIntyre Law can help. Our wrongful death attorneys will investigate the situation, gather evidence, and fight to get you the justice and compensation you deserve.
Working with McIntyre Law


Based in Oklahoma, nursing home abuse lawyers from McIntyre Law have a keen understanding of how to spot nursing home neglect and abuse. They also know how to navigate the system to correct it and hold the appropriate people responsible. Don't wait until a loved one becomes seriously ill — or even dies — before you call us to help stop the abuse. McIntyre Law has a team of top nursing home abuse lawyers in Oklahoma City who know the ins and outs of the elder care system and are dedicated to giving you the best legal representation possible. We'll work fast to ensure that your loved one is treated with care and respect.
When you entrust your spouse, parent, or grandparent's care to a nursing home, you should be able to expect that they'll be treated properly and get the care they need. Most people don't go into it thinking they'll need to deal with issues of neglect or abuse, or that they might need a nursing home neglect lawyer. But it happens. If your loved one has suffered nursing home abuse or neglect in Oklahoma, we can help. Our team of dedicated professionals is ready to assist you in English or in Spanish because we care and understand. Contact our experienced nursing home neglect lawyers today for more information.
What is a contingency fee?
When a lawyer works on a contingency fee basis, they're agreeing to accept a fixed percentage of any settlement or award from the lawsuit to cover their legal fees. If there are no rewards from your nursing home abuse lawsuit, you don't pay. We only get paid if you do.
What are the signs of nursing home abuse or neglect?
---
It can be hard to spot cases of nursing home abuse or neglect. This is for a number of reasons. First off, you may not know what's considered nursing home neglect or abuse. Or it could be that staff members are on their best behavior when visitors are present. It could also be because nursing home residents are often less verbal or are suffering from conditions like Alzheimer's or dementia, which would make it hard for them to report to a relative what's happening to them.
At McIntyre Law, we have the top nursing home abuse attorneys in Oklahoma. They're specially trained to find evidence that goes beyond the patient's physical appearance. If you see any of the following signs in a loved one, it's important to call our elder abuse lawyers immediately. It could be the difference between life and death.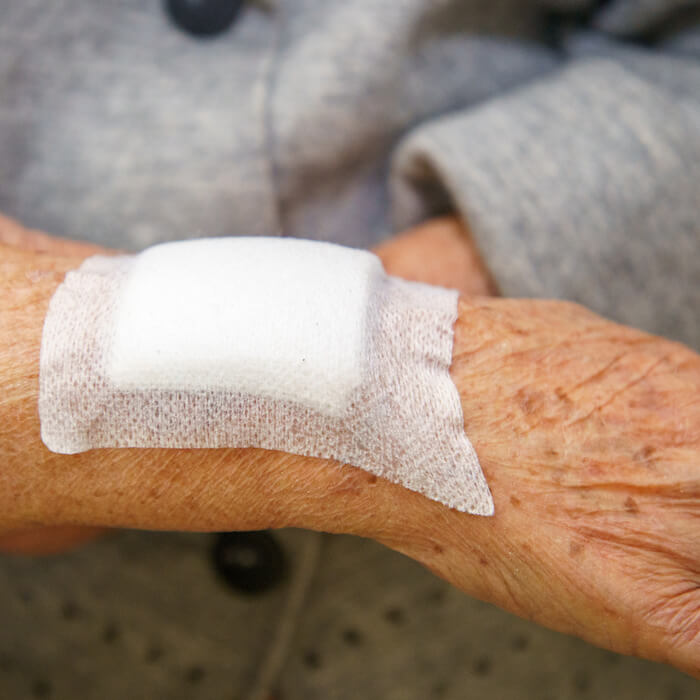 Here are some of the warning signs:
Unexplained bruises and cuts
Heavy administration of medication or drugs
Lethargy
Extreme or rapid weight loss or gain
Drastic changes in personality
Unexpected illness or death
Bedsores or pressure sores
Broken hip or other bones from a fall or assault
Starvation
Dehydration and malnutrition
Inappropriate use of physical restraints
Drug overdose or injury from incorrect medication (or dosage)
Physical, emotional and psychological abuse
Exposure from wandering off the grounds due to a lack of supervision
If you arrive to visit your loved one and you're denied visitation (during regular visiting hours), or if the staff won't allow you to be alone with your loved one, these could be signs that they have something to hide. A situation like this is best handled by an experienced nursing home abuse lawyer.
Meet Our Oklahoma Nursing Home Abuse Attorneys
The nursing home abuse attorneys at McIntyre Law understand the indignities of elder abuse. That's why we're committed to giving you the best legal representation possible and won't rest until you get justice.
Can I sue a nursing home for negligence or abuse?
If you suspect that abuse is taking place, or if anything seems out of the ordinary, there are steps you can take to ensure that appropriate care is being provided.
First, raise these issues to the nursing home's management. They're required by Oklahoma law to address your concerns, and they must have a written policy explaining this.
If you're unsatisfied by the management's response, or if you don't see improvement by the next visit, you can contact the National Adult Protective Services Association to file a report. This is the time to contact a nursing home abuse lawyer.
Or you could call the National Center on Elder Abuse at (855) 500-3537 for additional guidance.
Lastly, if you believe that your loved one, or any nursing home resident, is experiencing a serious and immediate threat of harm, don't hesitate to call 911 or your local emergency number for immediate assistance.
How long do you have to file a lawsuit against a nursing home?
Nursing home lawsuits in Oklahoma must be filed within a certain amount of time. This time frame is known as the statute of limitations, and it begins when you first notice any signs of abuse or neglect. Each state determines its own statute of limitations for nursing home abuse cases. The state of Oklahoma gives you two years to sue a nursing home for negligence.
But that doesn't mean you should wait. The sooner you contact a nursing home neglect lawyer near you, the stronger your case will be.
What kind of compensation can you get for nursing home neglect?
Upon winning your nursing home negligence lawsuit, a settlement will be decided by the courts. They may award you compensation for damages such as:
Medical expenses
Pain and suffering
Mental anguish
Loss of quality of life
Property damage
Reimbursement for stolen goods
Punitive damages
It's possible to win your Oklahoma nursing home lawsuit on your own, but you may not be satisfied with the settlement amount. A skilled nursing home neglect lawyer will fight to get you the maximum amount of compensation for your suffering.