Working with McIntyre Law


Our law firm believes in honesty, hard work, and compassion. We aim to provide the best legal representation for Oklahoma motorcycle wreck victims while sticking to a strict code of ethics. At McIntyre Law, you'll get the full attention of some of the top motorcycle accident attorneys in Oklahoma City, and you'll be able to reach them whenever you need to.
What should I do after a motorcycle accident in Oklahoma?
Many things can flash through your mind when you crash your bike. So in case you're involved in a motorcycle accident, attorneys from McIntyre Law have put together a list of things you should do immediately following the accident:
Call 911. Seek immediate medical attention if you think you or your passengers have been injured. Whether or not you think you or anyone else is injured or damage has been sustained, it's very important that a police report is on file for any motorcycle accident in Oklahoma. If there are witnesses to the bike crash, encourage them to stay at the scene until the police arrive to take their statements and contact information.
Take pictures. If you're able to do so, take a few pictures at the scene. Try to show any damage to your motorcycle as well as to other vehicles and other property damage. Keep them safe in your phone or on your camera, but don't send them to anyone until you've been advised to do so by your attorney.
Collect names, driver's license numbers, contact information (at least a home address and phone number), and insurance information for all motorcyclists and drivers involved in the motorcycle crash. Don't limit yourself to people involved in the motorcycle accident. Actively ask bystanders if they witnessed the motorcycle accident and to provide you with their version of what happened.
Find out if a distracted driver was involved in the motorcycle accident. In Oklahoma, you must immediately inform the police investigating the accident whether a driver was talking on a cell phone, appeared to be texting, and/or was possibly under the influence of alcohol or drugs. Distracted driving and driving under the influence cause about 27% of all Oklahoma motorcycle accidents.
Go to a hospital or visit your doctor as soon as possible. If your injuries are severe, head straight to the nearest emergency room. Even if you think you're fine, you should go to a hospital or get checked out by a doctor. Some head, back, neck, and internal injuries from motorcycle accidents can take hours, or even days, to become apparent. If you delay treatment, your insurance company could take that as a sign that your injuries are insignificant, or even that you're making them up after the fact. A complete report by a medical provider immediately following any motorcycle accident is a crucial part of your insurance claim.
Make statements about your motorcycle accident only to the police. In the heat of the moment, your impression of what happened could be fuzzy. You have just experienced a trauma, and you might even be nervous enough to admit to or apologize for something that wasn't your fault. Avoid making apologies or admissions to anyone at the scene (even any other drivers who were involved in the motorcycle accident); just tell the attending police officers what you think happened. While you might think you're simply being nice and showing concern for another motorist, an apology made at the scene is admissible in court and could be evidence against you if that person seeks to prove fault in a motorcycle wreck lawsuit.
Call your insurance provider to have a case file created for your motorcycle accident. You want the insurance company to know that you didn't delay in reporting the case. You'll get a claim number for the date of loss and will connect with a claims adjuster, who can be your point of contact as you try to recover medical costs, lost wages, compensation for property damage, or other claims. Note: If the insurer asks you to make a recorded statement about how the accident happened, we recommend that you decline until you have our lawyers present to advise.
Call McIntyre Law. After suffering a motorcycle crash, call McIntyre Law and discuss your case with some of the best motorcycle accident attorneys in Oklahoma City. We'll walk you through every step of the process so you don't make statements to your insurance company that would keep you from getting the compensation you deserve. And we'll make sure you only pay what's fair to the other parties involved.
Avoid "ambulance chasers". It's unethical and illegal for any motorcycle accident attorney in Oklahoma to pursue someone who has just been in an accident without first being contacted by that person. It's best to avoid ambulance chasers altogether.
Keep accurate records and receipts. If you've been hurt in a motorcycle accident in Oklahoma, you might be able to collect damages for costs associated with life activities that you're unable to do while you're recovering. Depending on how badly you're injured, you might be able to get reimbursed for out-of-pocket expenses related to your injuries. McIntyre Law can tell you how the process works here in Oklahoma and what to do to get help with your medical bills after a motorcycle accident.
Avoid posting details about your motorcycle accident on social media. Insurance companies are known to view Facebook pages, Instagram feeds, and other social media posts about your motorcycle wreck. Although you might want to let your friends and family know that you're okay, or that you need help managing your injuries, it's best to keep those conversations offline. Don't share any details about how your motorcycle accident occurred or how your recovery is going.
Remember: Never assume that the driver who hit you will admit to fault. You're the first line of defense in protecting yourself during the claims investigation. The information you gather after your accident will be very important as the claims process and/or motorcycle accident litigation proceeds.
What is a contingency fee?
When lawyers work on a contingency fee basis, like they do at McIntyre Law, they're agreeing to accept a fixed percentage of any settlement or award from your lawsuit to cover their legal fees. If there are no rewards from your motorcycle accident lawsuit, you don't pay us. We get paid if, and only if, you do.
What are the typical causes of motorcycle wrecks?
At McIntyre Law, we've represented lots of people who have suffered personal injuries because of the negligence of other motorists. Studies show that most Oklahoma motorcycle accidents occur due to the motorcycle leaving the highway. TThese accidents are typically caused by motorists who aren't paying attention and end up forcing the motorcycle off the road. We also see cases where the motorcycle wreck is the result of a motorist running a traffic light or stop sign. And there are motorcycle wrecks where a car turns in front of an oncoming motorcycle. These and other types of accidents usually result in serious injuries or even death to the motorcyclist.
Common Motorcycle Crash Injuries
Our Oklahoma City motorcycle crash lawyers have represented a whole range of Oklahomans injured in motorcycle wrecks across the state. If you or a loved one are suffering from a traumatic brain injury or other medical complications as a result of a motorcycle crash, attorneys at McIntyre Law have the experience to get the long-term care you need. The following are the most common motorcycle accident injuries:
Head trauma
Whiplash
Spinal trauma
Back and neck pain
Lacerations and scars
Severe bruising
Permanent disfigurement
Disability
Mental Anguish
What compensation could I get from a motorcycle accident lawsuit in Oklahoma?
Legal rules can vary by state, but you may be entitled to compensation for the following if you're injured in a motorcycle accident in Oklahoma:
Physical pain and suffering
Mental pain and suffering
Reasonable expenses of the necessary medical care, treatment, and services
Specifically, Oklahoma law allows a jury to consider the following in a personal injury accident:
The victim's physical pain and suffering, past and future
The victim's mental pain and suffering, past and future
Age of the victim
The victim's physical condition immediately before and after the accident
The nature and extent of the victim's motorcycle crash injuries
Whether the injuries are permanent
Physical impairment after the motorcycle accident
Disfigurement after the motorcycle accident
Loss of earnings and/or time
Impairment of earning capacity
Reasonable expenses of necessary medical care, treatment, and services, past and future
At McIntyre Law, our motorcycle crash lawyers in Oklahoma City and Tulsa are experienced and prepared to get you the most compensation the law allows as the result of a motorcycle accident.
What do I do if my loved one has died in an Oklahoma motorcycle wreck?
Motor vehicle collisions are one of the leading preventable causes of death in the United States. In Oklahoma alone, we typically have more than 80 motorcycle-related deaths each year. The Oklahoma motorcycle crash lawyers at McIntyre Law take our role as counselors of the law very seriously in wrongful death actions. We're here to listen to your story and provide you with legal guidance.
According to Oklahoma law, a wrongful death claim is when an individual dies due to the negligence or misconduct of another individual. Oklahoma allows immediate family members of the deceased to file a wrongful death claim to recover damages resulting from pain and suffering, lost wages, mental anguish, loss of companionship, medical costs, and other expenses.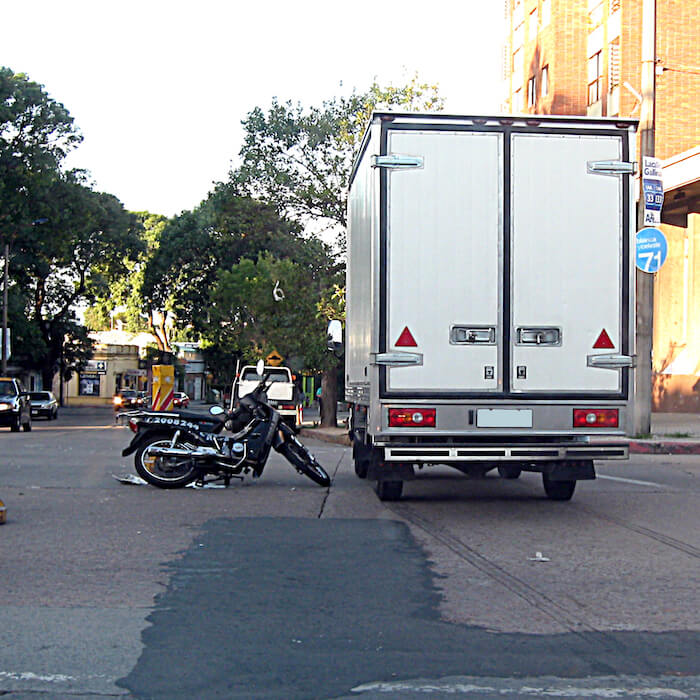 Meet Our Oklahoma Motorcycle Accident Attorneys
If you or a loved one has been the victim of an accident anywhere in Oklahoma, the experienced motorcycle lawsuit attorneys from McIntyre Law are available to speak to you today.
Why should I hire a lawyer to represent me in a motorcycle accident case?
The lawyers at McIntyre Law are experienced in dealing with various types of accidents — and the insurance companies that regularly attempt to lowball individuals who try to go through the claims process alone. We've seen every kind of motorcycle accident in Oklahoma and can help you avoid the pitfalls that may arise in your case. We know your time is precious and will attempt to force the insurance companies to speed up the process — whether that means resolving your property damage or getting you the compensation you deserve for your injuries.
We also try to provide our clients a worry-free experience during the claims process. You're retaining the services of an experienced attorney who has settled and/or litigated numerous Oklahoma motorcycle wreck claims. You shouldn't have to worry or feel pressured by adjusters; that's what you hire us to do.

Can I file a motorcycle wreck lawsuit in Oklahoma without legal representation?
You can; it's your choice. For many people, the thought of paying for an attorney's services after a motorcycle wreck may keep them from seeking help. However, you should know that studies show that, on average, people who settle their motorcycle wreck claims with the help of an experienced attorney typically receive larger settlements, even after fees for services have been deducted from the settlement amount. And at McIntyre Law, we work on a contingency fee basis, so you won't pay a dime until we win compensation for you.
The only way to level the playing field against insurance adjusters, who are set on getting you to take less than what your claim is worth, is to retain the services of an experienced and aggressive Oklahoma motorcycle crash lawyer.
What if the negligent driver doesn't have insurance?
Studies have consistently shown that 1 in 3 Oklahoma drivers are without vehicle insurance, which is why you absolutely need to purchase uninsured/underinsured motorist coverage. This policy will protect you if you're injured by two different kinds of negligent drivers: motorists who have no insurance, and those who do carry some insurance but not enough liability insurance to cover your needs.
Oklahoma uninsured/underinsured motorist laws are complex. It's important to have the expertise of an Oklahoma motorcycle accident attorney experienced in these laws. At McIntyre, we know them inside and out and can help you get the compensation you deserve.
Where in Oklahoma do McIntyre's motorcycle accident attorneys practice?
The Oklahoma personal injury attorneys in our office routinely handle cases throughout the entire state of Oklahoma, including the following cities:
Oklahoma City
Tulsa
Lawton
Edmond
Norman
Ardmore
Idabel
Shawnee
Stillwater
Midwest City
Moore
And in counties including Oklahoma County, Tulsa County, Payne County, Cleveland County, and McCurtain County. No matter where you are in the state of Oklahoma, our lawyers stand ready to help you.