Is There Currently a Class-Action 3M Earplug Lawsuit?
Although there is currently no class-action suit against 3M over their defective combat earplugs, more than 230,000 individual case have been consolidated into multi-district litigation. Aearo Technologies, the 3M subsidiary that manufactured the defective earplugs, recently declared bankruptcy. 3M asked the courts to consider Aearo alone to be responsible, but an August 2022 ruling is allowing the law suits to move forward against Aearo and parent company 3M.
McIntyre Law is taking cases nationally and litigating them individually to show how each veteran was harmed by 3M defective earplugs. We pride ourselves on getting to know our clients and obtaining the compensation they need to move forward with life after an injury. Based in Oklahoma, senior law partner Noble McIntyre and the legal team at McIntyre Law are always just a phone call away and ready to provide you with an update on your case.
What to Know Before You File a Lawsuit
---

Many 3M hearing loss lawsuits are underway, along with a suit filed by the U.S. government alleging that 3M knowingly supplied defective earplugs. Because all current 3M earplug lawsuits are being conducted as mass torts and not a class-action, you will need to show exactly how you were injured by using the combat earplugs. This will involve collecting all your military or civilian medical records as well as other legal documents, a process that can be complicated and needs to be thorough.
Some veterans may feel that they can handle this process on their own, but our experienced team knows this process well and can prevent an oversight that could severely damage your case. McIntyre Law can level the playing field against 3M and recover compensation for your permanent hearing loss.
The statute of limitations for 3M lawsuits
Depending on your state, the time you have to file a 3M defective-earplugs lawsuit may be running out. In most states, you have two years to file a suit over any hearing loss you sustained and submit your 3M earplug claim. However, the statute of limitations varies from state to state, and you may have as little as one year. The point at which your time period begins can vary as well. In most states, the statute of limitations begins when you discover, or should have discovered, that you were injured by a product. In some states, it may begin when the actual injury occurred, so check the regulations in your state and contact McIntyre Law for a free consultation.
What is a contingency fee?
When we represent you in a 3M earplug lawsuit, we're confident we can obtain the compensation you deserve. We're so confident that we'll never ask you for money until after we win. We work on a contingency fee, which means that we don't get paid until you're compensated by 3M.
Working with McIntyre Law
---
At McIntyre Law, we defend the injured every day and have a passion for all types of cases. But nothing motivates us like defending those who have been injured while defending our country. In the case of 3M defective earplugs, soldiers were not injured by the enemy, but by a company that put the desire for profit ahead of the interests of our troops. Veterans who were harmed by 3M earplugs deserve to have the best legal representation possible, and that's what we strive to provide.
What compensation can I get from a 3M earplug lawsuit?
The 3M Company was fully aware of the dangers their earplugs posed to military personnel with regard to hearing loss, which can reduce people's quality of life and even harm the relationships they have with those around them. If your hearing was damaged by using 3M defective earplugs, you are entitled to compensation. And when you prevail in a 3M earplug lawsuit, you can expect to be compensated for:
Medical bills
Pain and suffering
Loss of your career
Emotional damages
Disability
Other burdens, depending on your unique situation
Are you eligible for a 3M dual-ended Combat Arms Earplugs lawsuit?
If you feel you might be eligible for a 3M earplug lawsuit, it's worth contacting our experts for a case evaluation. It doesn't cost anything, and the statute of limitations may be running out. If you qualify, we'll file your defective-earplugs claim within the statute of limitations and begin collecting everything necessary to obtain the compensation you're entitled to. To be eligible for a 3M earplug lawsuit, you must meet the following three standards:
Used 3M dual-ended Combat Arms Earplugs
Served in the military between 2003 and 2015
Diagnosed with tinnitus or hearing loss as a result of military service
If you are still an active-duty member of the military, you may not be eligible for a lawsuit at this point, but make sure that your hearing loss has been well documented in your medical records.
Meet Our 3M Earplug Attorneys
With more than 90 years of experience litigating tough cases and representing the injured, our lawyers are ready to take on your 3M hearing loss lawsuit.
What Are 3M Dual-Ended Combat Arms Earplugs?
---
It's a common precaution to use ear and eye protection when firing weapons for training or target practice. In these situations, soldiers and civilians use ear protection that is bulky and that typically blocks out all types of noise. However, in combat zones, the military needs to balance the need for hearing protection with soldiers' needs to communicate quickly and effectively. The 3M dual-ended Combat Arms Earplugs were designed to do just that. Each earplug had two sides: an olive end that blocked out all sound, and a yellow end that blocked out loud, battlefield sounds while allowing spoken communication to be heard.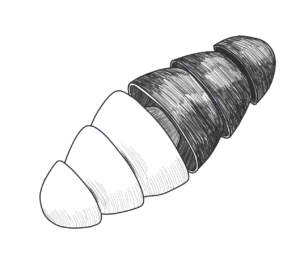 How were they defective?
While the inner workings of the earplugs may have done their job, an issue with how the plugs fit into the ear caused hearing damage in some who used them. The design was too short to maintain a proper seal in the ears of all the soldiers who used them, and the earplugs often became loosened in the ear without the wearer's knowledge. When these soldiers encountered explosions and battlefield sounds, the damaging noise went around the earplugs and into the wearer's ear canal. The defect left those who expected to be protected with no noise protection at all.
What Are the Side Effects of Using 3M's Defective Earplugs?
Some people who used the 3M earplugs were protected, but many who thought they were using a device that would protect their hearing were exposed to dangerous noise levels with virtually no protection at all. Noises encountered while wearing the poorly designed earplugs left soldiers with tinnitus, a permanent ringing in the ears, and irreparable hearing damage.
Hearing loss from 3M combat earplugs
Hearing loss is measured by degrees; someone with severe hearing loss faces different challenges than someone with mild hearing loss. Veterans or active-duty service members who suffered hearing loss using defective 3M earplugs may be experiencing a wide range of symptoms that include the following:
Mild hearing loss
Trouble hearing consonants
Difficulty keeping up with conversations in noisy environments
Moderate hearing loss
Trouble understanding consonants and vowels
Difficulty understanding conversations without a hearing aid
Severe hearing loss
Inability to understand speech at all
Need of powerful hearing aids for communication
Possible need to communicate with sign language
Tinnitus from 3M combat earplugs
Exposure to loud noises can cause a ringing in the ears, but that doesn't mean that hearing loss has occurred. In cases where the noise causes hearing loss, however, ringing in the ears, or tinnitus, may be permanent. Tinnitus symptoms can include:
Ringing
Hissing
Buzzing
Clicking
Whistling
Roaring
Is there a 3M earplug recall in the United States?
Military personnel in Iraq and Afghanistan began using the 3M defective earplugs in 2003, and they have never been recalled. The 3M Company discontinued the dual-ended Combat Arms Earplugs in 2015, but because they were never recalled, it's likely that many are still being used by active-duty military personnel.
3M Earplugs and the Government
---
3M was founded in 1902 and has a long history of providing products to the government and military. The company started supplying the military with attenuating earplugs in 2003, after acquiring Aearo, the original manufacturer of Combat Arms Earplugs. In addition to hundreds of lawsuits filed by individual soldiers, the United States government is also suing 3M, claiming that the two companies obtained the contract to supply the defective earplugs through insufficient testing and by making a number of false statements that violated their contract.
3M earplug timeline
2000
Aearo learns of fitting defect with Combat Arms Earplugs
2003
Aearo wins contract to supply earplugs to the military
2003
Aearo acquired by 3M
2003 - 2012
Aearo/3M exclusively supply attenuating earplugs to the military
2004
All soldiers deployed to Iraq and Afghanistan are issued Combat Arms Earplugs
2015
3M discontinues Combat Arms Earplugs
2016
U.S. government files suit against 3M
2016
Hundreds of lawsuits filed on behalf of soldiers with hearing loss
How did 3M earplugs pass safety regulations?
When the military issues a request for companies to supply products that are designed for a specific purpose, they include stringent guidelines for how the products must be tested. This is done for the safety of the product's users and to insure that the products actually work.
When conducting tests on the Combat Arms Earplugs in 2000, Aearo, the company that originally manufactured the earplugs and was later acquired by 3M in 2003, was only able to produce the desired results by folding the rubber flanges on the plugs before insertion to create a proper seal. However, these instructions were not included in the information provided to military personnel — at one point comprising every soldier deployed to Iraq and Afghanistan.