Oklahoma Drunk Driving Statistics
Published on June 7, 2019
2015 Oklahoma drunk driving statistics: Fatalities are on the rise
Driving Under the Influence, or DUI, is a huge problem — and not just for Oklahoma. Drunk driving statistics show that the number of alcohol-related fatalities is increasing, and it's everyone's job to reverse that trend. 188 people died in drunk driving accidents in Oklahoma in 2015 — what if one of those people was your family member or friend? There are thousands of alcohol-related deaths on U.S. roads each year. The worst part? Drunk driving fatalities are completely preventable. Thousands of people would live to see another birthday if only someone hadn't made a choice to drink and drive.
Let's take a closer look, though, specifically at Oklahoma drunk driving fatalities. For almost a decade, McIntyre Law has analyzed data gathered by the National Highway Traffic Safety Administration (NHTSA), Oklahoma Highway Safety Office (OHSO), Fatality Analysis Reporting System (FARS) and the U.S. Census in order to see exactly how Oklahoma drunk driving statistics affect you. And, they do affect you. The number of drunk driving fatalities in Oklahoma has increased in the past year. Here are the details:
While the one percent increase in the chart above might not seem like a lot, it's equal to 16 people. Remember, this is looking only at drunk driving fatalities — it doesn't reflect the number of actual alcohol-related accidents or injuries; it only shows the number of deaths. Overall, the number of deaths was lower in 2015 than it had been in the earlier part of the decade, with the exception of 2014. Perhaps that means that awareness is growing and people are being more careful, but the uptick in fatalities in the past year suggests that people could be becoming less vigilant. It will be interesting to see next year's statistics to see if Oklahoma drunk driving fatalities continue to trend upward or if this year was an anomaly.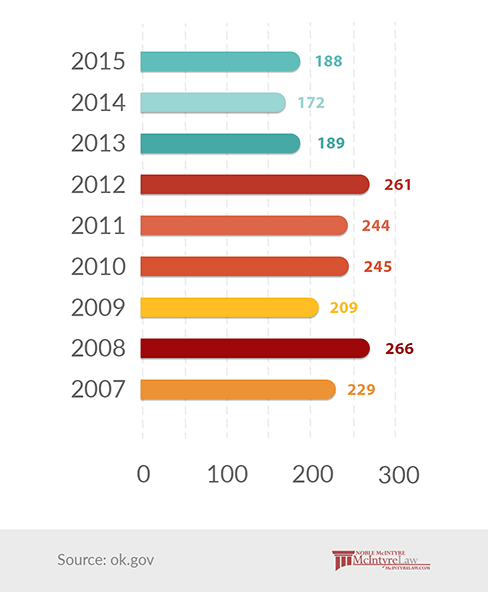 Gender trends in Oklahoma drunk driving statistics
Public perception suggests males are more likely to drink and drive than women, and drunk driving statistics show that's accurate. However, women are the drivers in more than one quarter of alcohol-related crashes. Interestingly, that figure drops to 18 percent for the number of fatalities. Still, the message that driving drunk is a life-threatening choice is one that needs to be clear to both male and female drivers.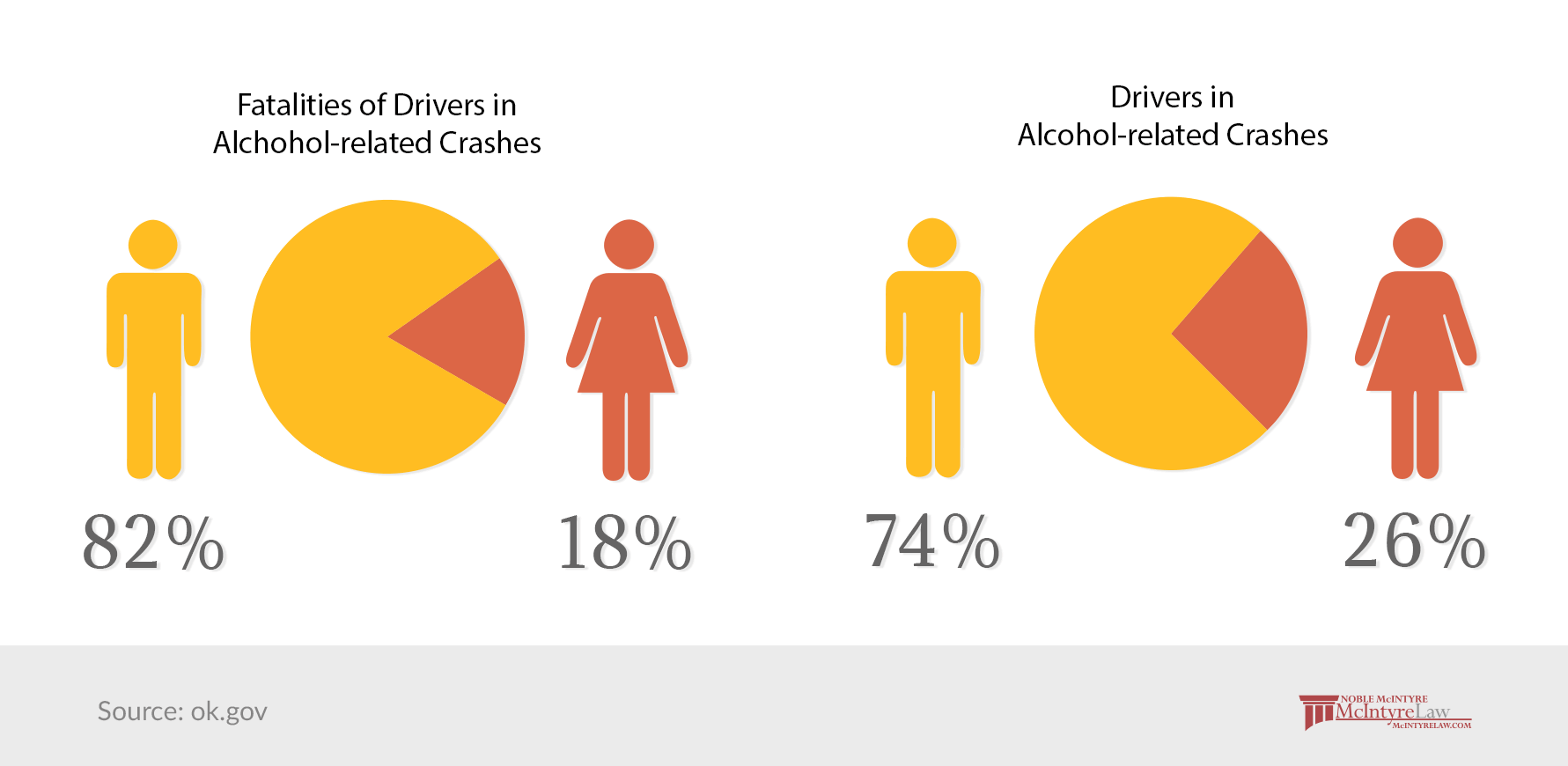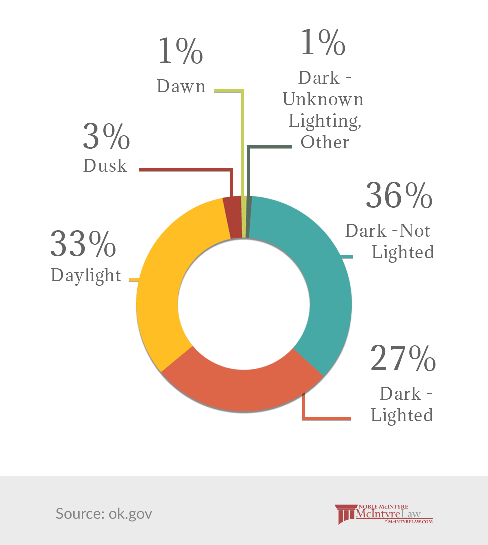 Where are drunk driving accidents likely to happen?
While Oklahoma drunk driving statistics indicate that the majority (at just over one-third) of alcohol-related crashes happen in dark, unlit conditions, 33 percent of these crashes happen in broad daylight. This statistic is followed by 27 percent in darkness, but lighted areas. The remaining few are at dawn, dusk or unknown light conditions.
A county-by-county breakdown of Oklahoma drunk driving statistics
Looking at trends over a nine-year period is especially revealing when you break them down by county. The map below shows which Oklahoma counties have seen the most and fewest drunk driving fatalities. Tulsa and Oklahoma counties show the most, with over 200 fatalities each since 2007. What's the safest county, according to our Oklahoma drunk driving statistics? That would have to be Harmon County, which hasn't had a single fatality since since before 2007.
Oklahoma DUI Fatalities in 2007-2015
County
Fewest Drunk Driving
Total fatalities, 2007-2015
County
Most Drunk Driving
Total fatalities, 2007-2015
Harmon County
0
Tulsa County
213
Woods County
3
Oklahoma County
209
Tillman County
3
Cleveland County
63
Cimarron County
3
Comanche County
51
Harper County
3
Canadian County
49
Jefferson County
4
Creek County
46
Cotton County
4
Wagoner County
44
Alfalfa County
5
Okmulgee County
44
Coal County
6
Delaware County
43
Dewey County
6
Caddo County
42
Ellis County
6
In fairness, it does make sense that the more densely populated counties would have the highest drunk driving statistics. That's why we've also analyzed the data based on population, looking at the number of fatalities per 1,000 people. Those numbers might be a little more surprising. Roger Mills County, whose population is only 3,647, actually had the highest number of Oklahoma drunk driving fatalities per capita, with 1.92 fatalities per 1,000 people. By contrast, Cleveland County, which has a population of over 250,000, had only 0.25 fatalities per 1,000. Using the map below, hover over each Oklahoma county to see how it stacks up:
Fatalities Per 1,000 People in Oklahoma Counties in 2007-2015
County
2007-2015 lowest
fatalities per 1,000 people
County
2007-2015 highest
fatalities per 1,000 people
Payne County
0.41
Roger Mills County
1.92
Comanche County
0.41
Pushmataha County
1.64
Custer County
0.40
Greer County
1.60
Tillman County
0.38
Beaver County
1.60
Tulsa County
0.35
Grant County
1.55
Texas County
0.34
Ellis County
1.45
Woods County
0.34
Caddo County
1.42
Garfield County
0.31
Dewey County
1.25
Oklahoma County
0.29
Cimarron County
1.21
Jackson County
0.26
Haskell County
1.17
Cleveland County
0.25
Harmon County
0.00
Between 2014 and 2015, Le Flore, Pittsburg, Pottawatomie and Rogers counties saw the greatest increase in drunk driving fatalities. In each of those counties, six more fatalities occurred in 2015 than in 2014. They are followed by Cleveland, Creek and Oklahoma counties, which each had five more drunk driving fatalities in 2015 than in 2014. If you want some good news, Caddo, Comanche and Seminole counties each decreased in the number of fatalities in the past year by five, six and seven people, respectively. Check out this map to see whether your Oklahoma county has seen an increase or decrease in drunk driving fatalities between 2014 and 2015:
2014-2015 Increases and Decreases in Alcohol Related Fatalities in Oklahoma By County
County
Greatest decrease in
DUI fatalities 2014-2015
County
Greatest increase in
fatalities 2014-2015
Seminole County
-7
Rogers County
6
Comanche County
-6
Pottawatomie County
6
Caddo County
-5
Le Flore County
6
Okmulgee County
-4
Pittsburg County
6
Wagoner County
-3
Oklahoma County
5
Choctaw County
-3
Cleveland County
5
Muskogee County
-2
Creek County
5
Carter County
-2
Payne County
4
Sequoyah County
-2
Tulsa County
3
Cherokee County
-2
Bryan County
3
Pontotoc County
-2
Pushmataha County
3
Garvin County
-2
Garfield County
-2
Okfuskee County
-2
Drunk driving is preventable
If these numbers don't scare you, they should. Why? Because in the past nine years, 1,950 drunk driving fatalities have occurred on Oklahoma roads. As a result of someone choosing to drink and drive, nearly 2,000 people are no longer with us. And, for every one of those 1,950 people, there are families and friends left behind who are still grieving. It's our hope that you will never be one of those people, but we all need to act. Action, in this case, means looking out for yourself, your loved ones and your acquaintances. If you're at a gathering and someone has been drinking, don't let that person drive. Offer a ride home, offer to call a taxi, or consider a ride-sharing service like Uber or Lyft… offer something that will give that person another option. There's always another option — driving drunk is never the right choice.
If you're a parent, teach your children early about the risks of drunk driving. Share this information about Oklahoma drunk driving fatalities; it's not to scare them, but to educate them. And, know that there are resources. For more information, contact Mothers Against Drunk Driving (MADD) or Students Against Destructive Decisions (SADD) to find out how to do your part to prevent a tragedy.
At McIntyre Law, our goal is to provide Oklahomans with the information that they need to be healthy and safe. But, if you find yourself the victim of a drunk driving accident, we can help. Contact us today for a free consultation. We advocate for victims of accidents that are the result of Oklahoma drunk driving. Fatalities are tragic — if one of your family members is a victim, we can help. No case is too big or too small, so call today.
If you would like to help increase awareness of Oklahoma drunk driving, please join the conversation by contacting the local Mothers Against Drunk Driving (MADD) chapter nearest you:
Oklahoma MADD Chapter
Phone: 405-748-3122
Email: ok.state@madd.org
Web: https://www.madd.org/oklahoma/
Oklahoma SADD Chapter
PO Box 53277
Oklahoma City, OK 73152
Phone: 405-522-2700
Email: tiffani.henry@odmhsas.org
Contact us today for a free consultation