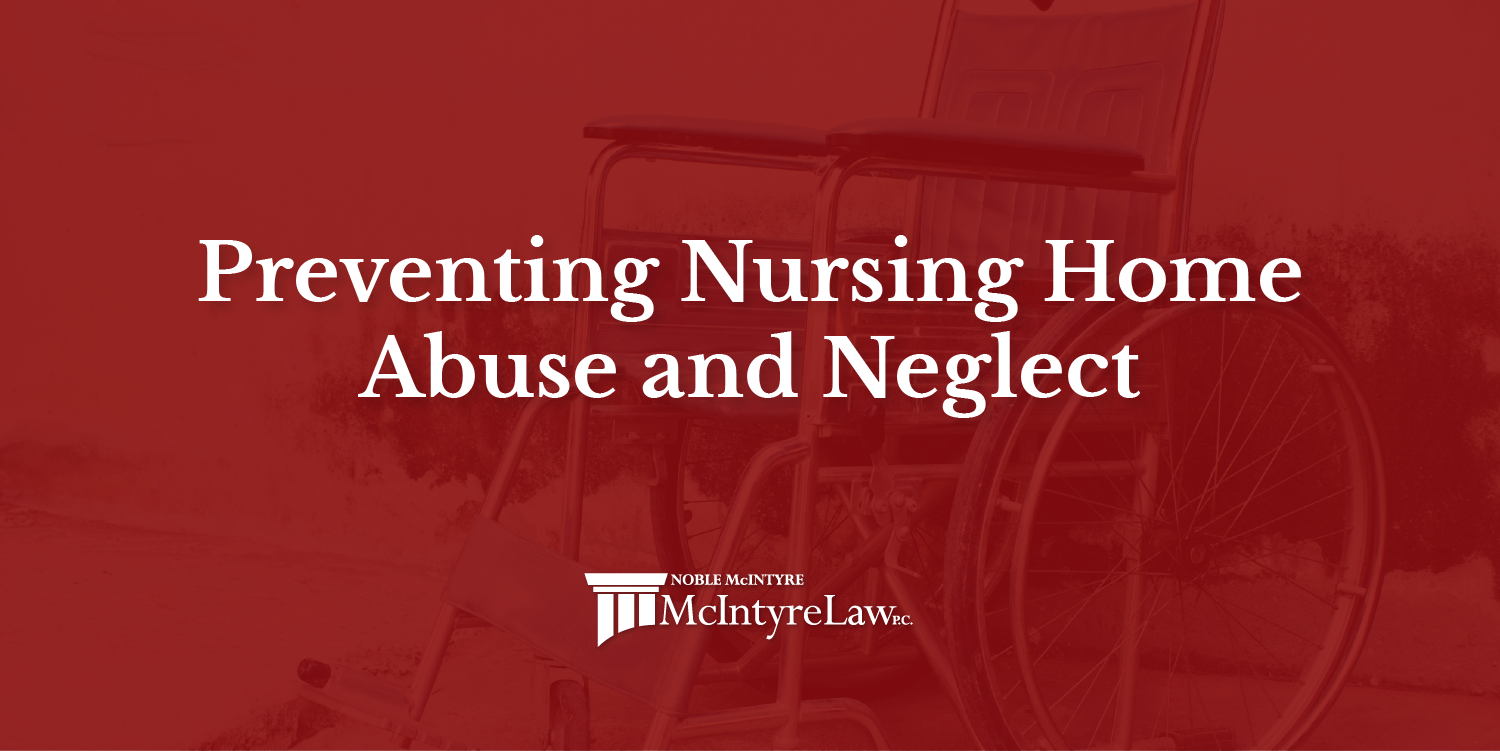 Preventing Nursing Home Abuse and Neglect
Published on October 19, 2020
Nursing home abuse can come in many forms. It could be in the form of forced restraint, whether physically or through the use of unprescribed medications. Or it could be as extreme as assault or rape. Abuse can also be emotional in nature, such as insults, threats, or forced isolation.
Additionally, nursing home patients can be victims of neglect. This can include the withholding of food, water, and/or medication, as well as the failure to meet basic personal hygiene needs.
No one wants their loved ones to suffer from these kinds of mistreatment. But the sad truth is that elder abuse in nursing homes occurs far too often in the United States. Here, we'll go through some ways to help prevent abuse and neglect in nursing homes.
Nursing home abuse and neglect statistics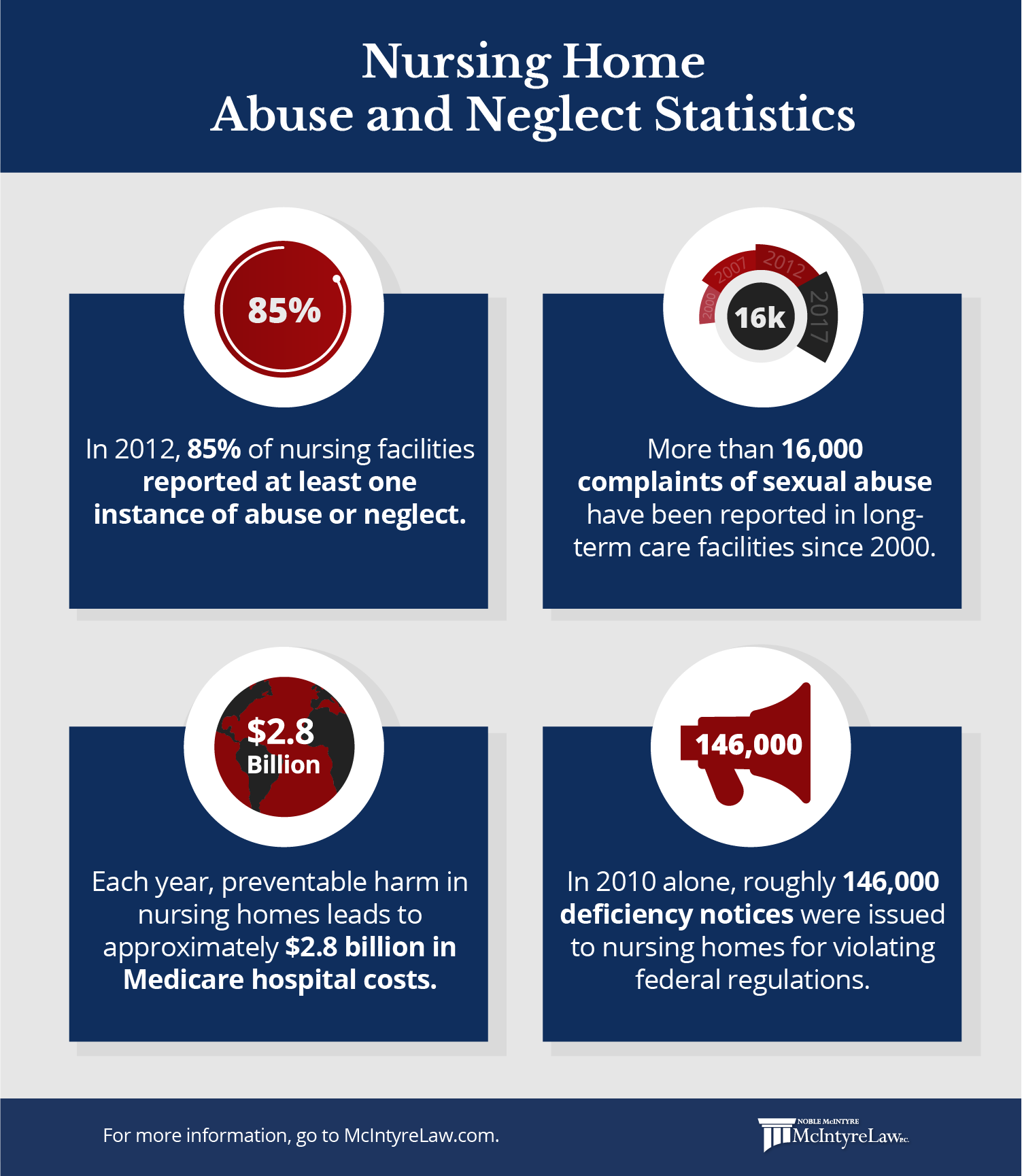 Even if you place your loved one in the best nursing home that's affordable for your family, you aren't guaranteed they'll be safe. Thousands of people in the United States fall victim to elder abuse in nursing homes each year. The following statistics help to illustrate the problem:
Recent cases of abuse and neglect
When a report of nursing home abuse occurs, the public deserves to know when and where it happened. This information allows people to avoid unsafe facilities. Here are some recent cases that were made public:
Guardian Elder Care, a nursing home operator with more than 50 facilities, has been ordered to pay $15.5 million for performing medically inappropriate therapy practices on residents.
Northern Manhattan Nursing Home was recently ordered to pay more than $5 million because of their negligence and inadequate medical care that led to the wrongful death of a resident.
Superior Care Home was recently ordered to pay $5 million after negligence and poor medical treatment resulted in the wrongful death of a resident.
The attorneys at McIntyre Law have the skills and experience to settle your nursing home lawsuit. We'll gather all the evidence, testimonies, and documentation you'll need to build the strongest case possible. And if you're unsure whether you're eligible to file a lawsuit, you can always contact us for a free consultation.
COVID-19 and nursing home neglect
Older people are considered highly vulnerable when it comes to COVID-19. Generally, this is due to their decreased ability to fight off viruses and infections. The coronavirus has had a devastating impact on nursing homes across the country:
If you or a loved one contracted the novel coronavirus in a nursing home, it may have been due to improper care or a failure to meet federal and state guidelines. In this case, you could be eligible to file a nursing home neglect lawsuit. If a loved one died in a nursing home from a COVID-19 infection, you may be eligible for a wrongful death legal claim.
What to look for in a nursing home
One of the best methods for preventing nursing home abuse and neglect is to carefully research different nursing home facilities. This can help you locate one that's safe, supportive, and suited to your loved one's needs. For example, some nursing homes specialize in treating certain illnesses and disorders. By exploring the various options available to you, you can feel more confident that your loved one will get the care they require.
It's also important to visit each potential facility and speak with the staff and residents. If you know what to look for in a nursing home, your visit can tell you a lot about the quality of care that's being offered there.
Questions to ask the nursing home
While visiting a facility, there are many questions you can ask the nursing home's staff and current residents. This will help you get a better idea of how the nursing home operates and whether it's a safe environment for your loved one. You may also be able to pick up on some nursing home red flags during your interactions.
Here are some examples of questions to ask nursing home staff and administration:
Do you have the proper licenses and certifications?
Are there any specialized services available?
What are your staffing ratios?
What are your staff turnover rates for nursing and administrative positions?
Do all staff undergo thorough background checks?
What safety precautions and procedures are in place?
What's your policy on using chemical restraints?
Can you meet special dietary requirements?
What's your activity schedule like?
How do you respond to patient concerns that are reported?
What steps are taken to ensure the comfort and inclusion of all patients?
Are there policies and procedures on prohibiting and reporting neglect and abuse?
Additionally, you can ask residents of the nursing home questions, such as the following:
Are you happy with your experience here?
How much freedom of choice do you have?
Is help readily available when you need it?
How does the staff treat you?
You may also consider bringing the comprehensive nursing home checklist from Medicare.gov on your visits.
Nursing home red flags to be aware of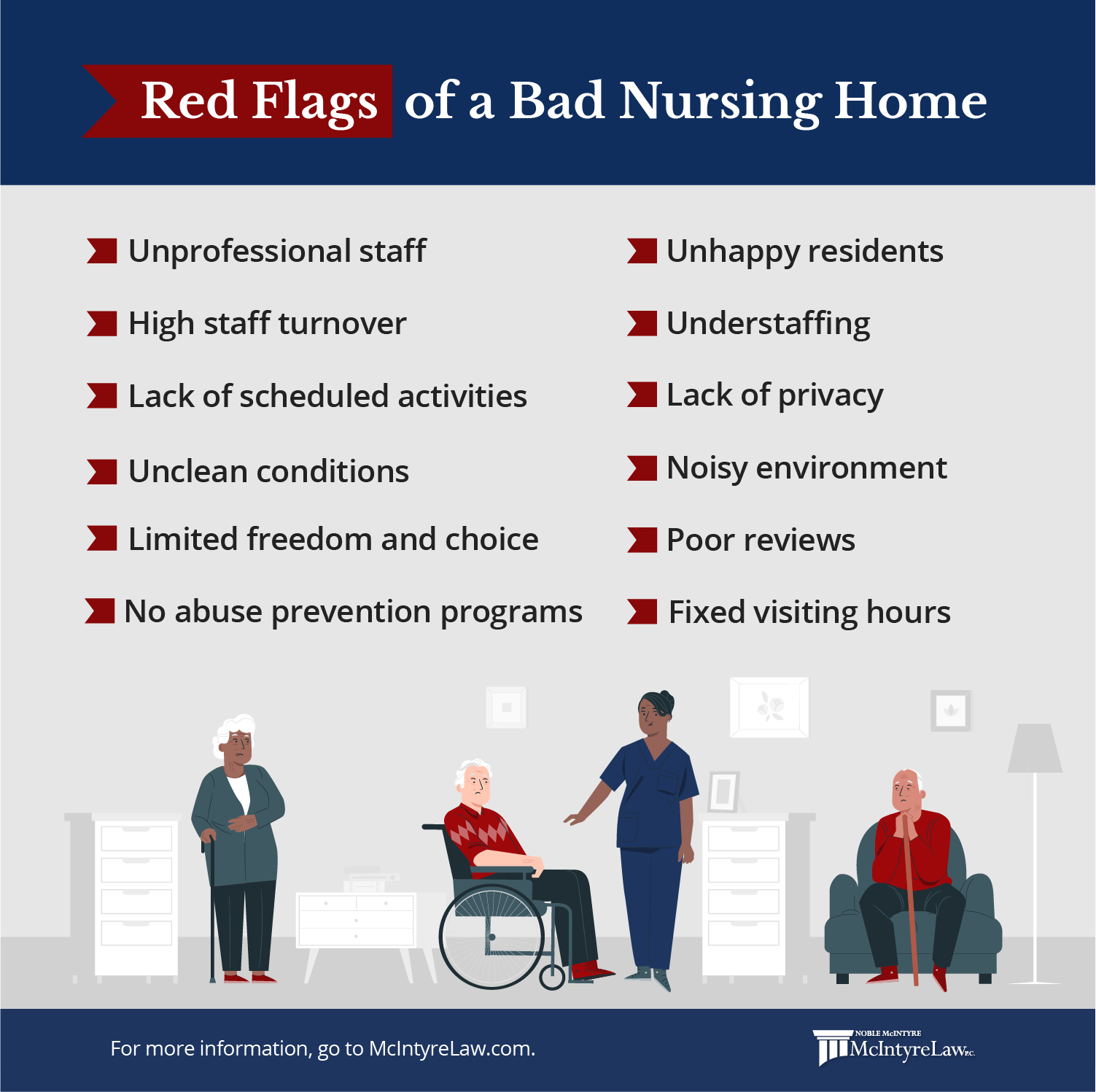 To ensure safety in nursing homes, staff and administration should be closely monitoring every aspect of their facilities. Unfortunately, that's not always the case. During your visits, watch out for these nursing home red flags:
Unprofessional staff. Rude or unhappy staff may be less likely to ensure safety in nursing homes, which can lead to a dangerous living environment. Nursing homes should be using tools like abuse registries and criminal background checks to evaluate prospective staff.
Understaffing or high staff turnover. Many nursing homes face understaffing issues. Factors like understaffing and high staff turnover rates may indicate harsh working conditions and/or poor management.
Lack of scheduled activities. A poor or disorganized activity schedule can show that a nursing home isn't truly invested in their residents' well-being. Nursing homes should routinely be offering activities that are physically, mentally, and socially enriching.
Unclean or unsanitary conditions. If a nursing home is unclean, outdated, or poorly maintained, that can indicate an unsafe living environment and may lead to personal injury accidents. Improper sanitation can be particularly dangerous during the COVID-19 pandemic.
Fixed visiting hours. Although not always the case, nursing homes that forbid unscheduled visits during normal business hours could have something to hide. That said, visiting hours may currently be limited because of COVID-19 nursing home restrictions.
Limited freedom and choice. This is an important factor to consider when choosing a nursing home. All residents should have the freedom to make their own choices regarding things like food, clothing, activities, and sleep schedules.
Unhappy residents. If you notice that the residents of a nursing home seem unhappy or unhealthy, this may be an indication that the facility is failing to provide them with quality care.
Lack of privacy. Nursing home residents should have privacy within their rooms, as well as a safe place to store their belongings. If you see staff failing to respect residents' privacy, that may point to an unsafe environment. Elder abuse in nursing homes becomes more possible when these basic boundaries aren't observed.
Noisy environment. When visiting a nursing home, it's important to take note of the noise level. A loud or disruptive environment can indicate an unsafe, poorly managed facility.
No abuse prevention programs. All facilities should be taking steps to prevent nursing home abuse and neglect. One example of this is to require ongoing abuse prevention and staff training programs.
Poor reviews. Positive reviews are definitely one thing to look for in a nursing home. If you find that a facility has received several negative reviews in the past, it likely won't be the safest or most comfortable place for your loved one.
Laws and regulations to ensure resident safety
Nursing homes have an obligation to ensure the safety of their residents. In order to accomplish this, there are various guidelines and regulations that must be followed. For example, the Joint Commission releases annual National Patient Safety Goals designed to ensure safety in nursing homes. The Occupational Safety and Health Administration (OSHA) also establishes standards regarding patient care in nursing facilities. This is in addition to any state-specific legislation meant to protect nursing home residents.
Nursing home residents are also guaranteed rights and protections that are federally protected by the 1987 Nursing Home Reform Law. These rights include — but are not limited to — the right to be free from discrimination, restraints, and abuse and neglect. It's important to know all the rights that are protected under law. When residents' rights are violated, it's a serious matter that could likely be grounds for a nursing home legal claim.
Documenting nursing home abuse and neglect
Even if you've carefully considered your options and chosen the best nursing home available to your loved one, it's possible that abuse and neglect could still occur. If you suspect elder abuse in a nursing home, it's highly important to document the details of the incident. To effectively document nursing home abuse or neglect, you should:
Keep a log of suspected incidents. In your incident log, you should include details such as the date and time of the incident, the staff member(s) involved, and a description of what occurred.
Speak with the nursing home's senior administration. It's important that you alert administrators of the potential problem and document their responses. This can also prevent future or escalating abuse by letting those in charge know that someone is paying attention to staff behavior.
Confirm the details with witnesses. If possible, it's best to speak with friends, family, fellow residents, or any other potential witnesses of the incident. This will help ensure that you have all the details of the incident correct.
Take photos or videos of any warning signs. When documenting the incident, it's crucial that you gather visual evidence, such as photos and videos. Be sure to document any warning signs of abuse and neglect, such as cuts/bruises, bedsores, and changes in weight.
Gather medical documents and financial records. Collecting recent medical documents and financial records can help prove incidents of abuse, neglect, and/or theft. For example, if the resident received medical care for unexplained injuries or had unusual activity in their bank account, this may be used as evidence.
File and record complaints. Once you have evidence showing that neglect or abuse may have occurred, you should file a complaint with the facility and keep a copy of the documentation. Reporting nursing home abuse will help to strengthen your case as it moves through the legal system.
Enlist help from an attorney. If you're feeling overwhelmed by the process, you may want to seek assistance from a nursing home abuse lawyer. They'll help you gather all the necessary evidence and documentation for your case, as well as notify the court system on your behalf.
There are various ways that family members, staff, and administration can work to prevent nursing home abuse and neglect. These types of incidents are still unfortunately common. If elder abuse in a nursing home is suspected, authorities should be contacted immediately.
You should also contact a nursing home abuse attorney. They'll review the details of the incident and see if you're eligible for a nursing home abuse or wrongful death lawsuit. From there, they'll help you build a strong case and fight to see that you and your family receive justice.
Contact us today for a free consultation