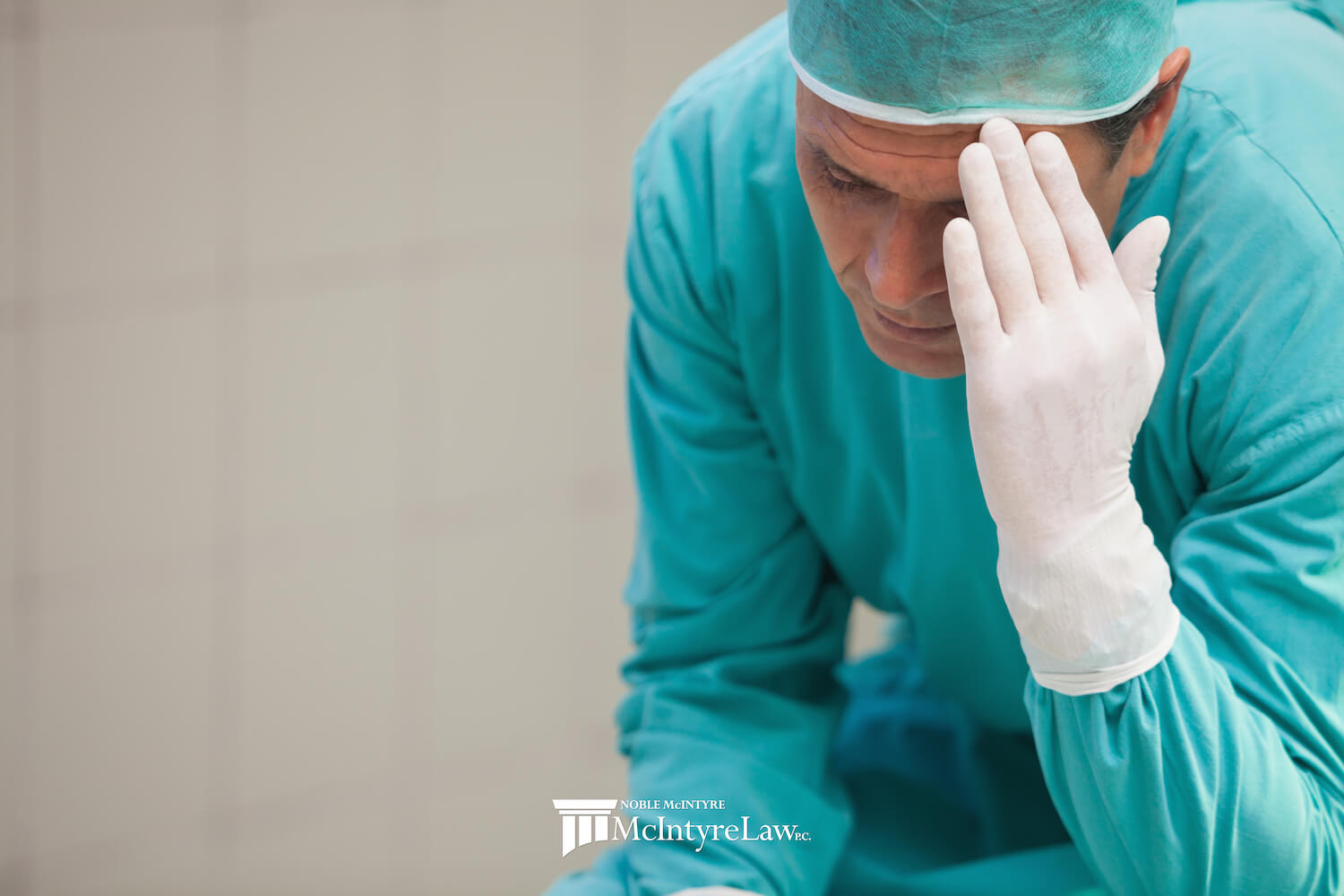 Surgical Errors: What to Do If a Surgeon Makes a Mistake
Published on March 11, 2020
For many people, undergoing surgery is a stressful, nerve-wracking experience. A successful outcome is never guaranteed, and there are many things that can go wrong beyond the patient's control. Although all surgeries involve some risk, it's inexcusable for a patient to suffer serious injury or death because a doctor or nurse failed to provide proper treatment.
When medical professionals make surgery mistakes, patients can sustain serious, or even permanent, injuries. Keep reading to learn more about your legal rights and what your options are when surgical errors happen.
What is a surgical error?
A surgical error is an avoidable mistake made by a medical professional during surgery that results in additional or unanticipated harm to the patient. Although all surgeries involve some known risks, it's considered surgical error when a patient experiences unexpected complications during their procedure. Surgical complications are defined as surgeon malpractice only when a patient is treated below the standard of care and suffers because of it.
Types of surgical errors
There can be many types of surgery mistakes in the operating room, such as the following:
Wrong-site surgery
Surgical complications
Failed surgery
Unnecessary surgery
Injuries sustained during surgery
Side effects of surgery
Leaving a foreign object inside a patient
Common causes of surgical malpractice
Surgical errors in the operating room can result from any number of different, yet preventable, factors. Some common causes of surgical malpractice include:
Defective surgical device. Your surgeon uses a recalled or defective medical device during your procedure.
Understaffed hospital. The hospital performing your procedure doesn't have enough staff to ensure the proper standard of care.
Poor training or education. The surgeon performing your surgery doesn't possess the skills or experience required for the procedure.
Failed communication. The medical team in charge of your procedure doesn't communicate effectively with one another about your case.
Inadequate planning. The medical team performing your surgery fails to review potential complications or properly prepare the operating room.
Fatigue or exhaustion. The surgeon operating on you works extended hours and is unable to get enough rest before the surgery.
Substance abuse. The surgeon performing your surgery is under the influence of drugs or alcohol at the time of the procedure.
Human error. A member of the medical team operating on you makes an inaccurate incision or provides the wrong dose of medication.
Can surgical malpractice be prevented?
All cases of surgical malpractice are the result of a mistake or error that could have been prevented.
The hospitals and medical staff that perform surgeries are responsible for ensuring a safe procedure with no unexpected complications. When they fail to do things like validate patient information, prepare the operating room, mark incision sites, or train staff on surgical checklists, they leave patients vulnerable and allow for surgical errors to be made.
Surgical error statistics
Each year, there are at least 4,000 surgical errors reported in the United States. Nearly half of all adverse events occurring in hospitals are related to surgery. Additionally, between the years 1990-2010, malpractice payments to surgical error victims of "never events" — serious surgical errors that should never happen — equaled $1.3 billion.
Can you sue a doctor for a failed surgery?
Although no surgery is performed without risk, cases in which surgeons fail to follow procedures or fail to follow the appropriate standard of care are considered surgical negligence.
Every state has a set time frame — the statute of limitations — in which a victim can file a legal claim for surgeon malpractice. In Oklahoma, adult victims of surgical negligence have two years after the incident to file a legal claim. Minors under age 12 have seven years to file a botched-surgery lawsuit. Minors over 12 have to file within one year of turning 18 (but never any less than two years total).
Patients who don't file a legal claim within the statute of limitations lose their legal right to sue for surgical or medical malpractice for the specific incident. Sometimes, though, exceptions can be made if the victim didn't discover that they had surgical complications in time to file a lawsuit.
How can you prove that your surgeon made an error?
In order to file a legal claim against a surgeon, you must be able to prove that the surgeon's negligence directly resulted in harm or additional complications. You have to demonstrate three things:
You must prove the surgeon owed you a duty of care. You have to show that the surgeon was your doctor and had a duty to avoid causing you harm.
You must prove the surgeon violated the standard of care. You have to show that your surgeon did something wrong or failed to do something that a reasonable surgeon would have done.
You must prove the surgical error caused your damages. You have to show that the surgical error was the direct cause of your harm or injuries.
What compensation can you get for your pain?
Generally, a court will provide awards to victims to cover both economic and noneconomic losses from their incident. Victims of surgical errors are able to obtain compensation for:
All past and future medical care
Pain and suffering
Lost wages resulting from being out of work for the procedure(s)
Costs for correction surgery
Other damages resulting from the incident
Compensation for surgical errors in Oklahoma
Like most other states, Oklahoma places caps on the amount of compensation a victim can recover for their incident. Generally, limitations are placed on collections for noneconomic damages. Such damages can include pain and suffering, mental anguish, loss of the benefits of family relationships (consortium), and other damages that don't place a direct financial burden on the victim.
The following are some limits to medical malpractice claims:
Noneconomic damages are often limited to $300,000.
Punitive damages are generally limited to $100,000.
Cases involving doctors who act in an especially malicious manner have a $500,000 limit for punitive damages.
What is wrong-site surgery?
Wrong-site surgery is when a patient receives the correct procedure but on the wrong part of the body. This may involve:
Operating on the wrong side, such as having the left eye removed instead of the right.
Operating on the incorrect level, such as a neurosurgeon operating on the wrong part of the spine.
Performing surgery on the wrong part of the correct structure, like removing the wrong toe from the correct foot.
What is wrong-procedure surgery?
Wrong-procedure surgery is when a patient receives the wrong procedure or the surgeon performs a procedure on the wrong patient. This may involve mistaking two patients with the same last name. Or it can involve the surgeon or a nurse using incorrect information to schedule a surgery that isn't necessary.
The consequences of wrong-procedure surgery can be catastrophic. For instance, a person who doesn't need a kidney removed can easily die, either on the operating table or afterward. As a result, hospitals enact strict protocols to ensure that surgeons are operating on the correct patient with the correct information.
Allergic reactions during surgery
Allergic reactions during surgery are among the most terrifying surgical complications because they can happen suddenly and without warning. And without immediate treatment, they can quickly lead to a patient's death. Fortunately, allergic reactions to medications or surgical instruments are rare. For instance, anaphylaxis from anesthesia only occurs anywhere between 1 in 10,000 and 1 in 20,000 surgeries.
Nerve damage after surgery
Postoperative neuropathic pain (PNP) can develop in patients whose nerves are damaged during surgery. Instead of functioning properly, the nerve signals become exaggerated and cause chronic pain in patients. Some individuals will experience short-term pain, while others experience persistent problems for months or even years after their procedure. Studies find that between 10% and 50% of patients who undergo surgery will end up developing some type of persistent pain after common surgeries.
Work with experienced surgery malpractice lawyers in Oklahoma
At McIntyre Law, we understand the devastating effects that a surgical error can have on someone's life. Surgeons deserve to be held accountable for their mistakes, and you deserve to be compensated for your suffering. The experienced surgery malpractice lawyers at McIntyre Law know what it takes to defend your rights — and win your case.
Contact us today for a free consultation