Filing an Insurance Claim After an Accident
It can be hard to know what to do right after you get into a traffic accident. All of a sudden, you have a whole new set of problems, from seeking medical treatment to dealing with the police. One of the steps you shouldn't forget — or delay — is filing an insurance claim after your car accident. The sooner you start, the sooner you'll get resolution and be able to move on with your life.
Here, you can learn how to report an accident to an insurance company, what the auto insurance claim process in Oklahoma involves, and what to do if insurance denies your claim.
How to report an accident to an insurance provider
If you, any passengers, and your vehicle are out of harm's way and no one needs immediate medical attention, it's best to get started filing your auto insurance claim. In Oklahoma, the driver at fault in the accident and their insurer are responsible for damages. But even if you're not at fault, you should contact your own insurance company to alert them to the situation.
Reporting a car accident to your insurance company doesn't start with a phone call, though. You'll need to gather some important information first. The steps for how to report an accident to insurance are as follows: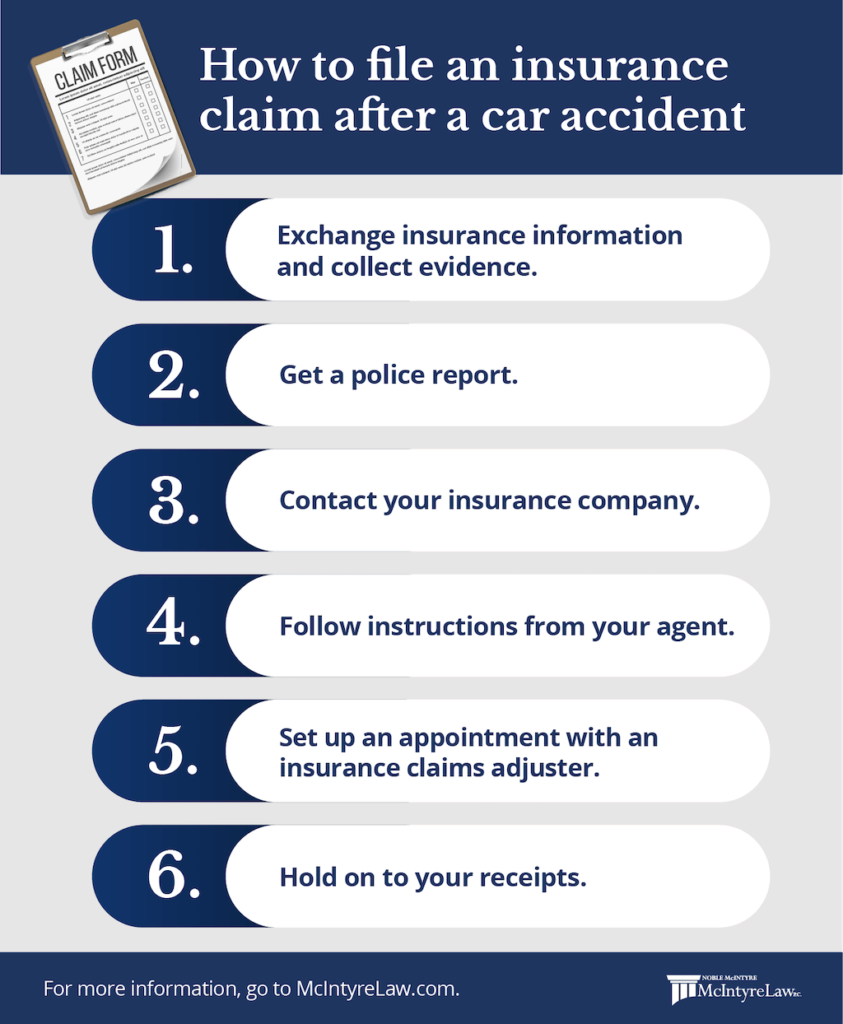 Exchange insurance information and collect evidence. Take down the other driver's name and contact information, the make and model of their car, the state and number on their license plate, and their insurance company and auto insurance policy number. If possible, get information from other people involved in the traffic accident, or from any witnesses, including statements of what happened. Use a smartphone or camera to photograph the accident scene, including the outside and inside of your car as well as the other vehicle(s). Also, note the weather conditions, date, and time of day. Note: Do not admit fault or accuse other drivers of fault at the scene of the accident.
Get a police report. The local police will often respond to traffic accident scenes. They will also collect information and statements, and will eventually produce a police report of the accident. You often need that report as part of any auto insurance claim process, especially when fault needs to be determined. If the police don't show up at the accident scene, you'll need to rely on the information you collected yourself.
Contact your insurance company. The phone number for your insurance company can often be found on your insurance card. You can also find contact information on your insurer's website. In addition, most major carriers have apps available that make filing an insurance claim after a car accident easier.
Follow instructions from your agent. You'll be put in touch with an agent who'll start your auto insurance claim process. Make sure you find out from them how much time you have to file claims, resolve disputes, and submit bills for reimbursement; when you can expect the insurance company to get back to you about your claim; whether you should contact the other driver's insurance company; whether you need to get estimates on the damage to your vehicle; and what your auto insurance covers, such as rental cars, towing and roadside service, and medical bills. Before you hang up, make sure your insurance company has your correct contact information, including your up-to-date phone number, mailing address, and email address.
Set up an appointment with an insurance claims adjuster. The next step after alerting your insurance company is setting up a time and place where a claims adjuster can look over your vehicle and determine the amount of repair work that needs to be done. If your car wasn't drivable after the accident, the inspection may take place at the auto body shop you had your car towed to. In Oklahoma, if the adjuster judges that your automobile needs repairs that cost more than 60% of what they think your car is worth, then they may declare that it's a total loss.
Hold on to your receipts. Auto insurance claims can take a long time to resolve, especially if who was at fault is in dispute. Make sure to hold on to your receipts for auto repairs, rental car fees, transportation costs you racked up because you didn't have a car, medical bills you incurred as a result of the traffic accident, and any other costs you think may apply. Depending on your insurance policy and who was at fault, you may be able to get reimbursed for some or all of those costs.
How long after a car accident can you file a claim?
How long you have after a car accident to file a claim with an insurance provider will depend on the carrier and your specific policy. That said, any insurance company is going to insist that you report an accident as soon as possible, or at least within a reasonable amount of time. You should interpret that as a few days, maybe a week or two, depending on your circumstances.
It's important not to delay. Remember: Insurance companies make their money by limiting payouts. Don't give them any excuses to deny your claim.
When to avoid filing an auto insurance claim
There are a few situations when you might not want to file an auto insurance claim. If you were in a single-car accident, no one was hurt, you didn't damage anyone else's property, and the damage to your own vehicle would cost less than the deductible on your auto insurance policy, then you may not want to report it. Using your auto insurance could trigger an increase in your monthly premiums. However, if your traffic accident doesn't fit that very narrow category, you should call your insurer promptly.
Do you have to give a recorded statement to your insurance company?
You do not have to give a recorded statement to any insurance company, no matter what they may claim. It may not seem out of the ordinary, but insurers can use these recordings to look for ways to deny or limit your car accident insurance claim settlement. If someone contacts you claiming to be from insurance and asks to record your statement, politely say no and contact a car accident attorney right away.
Should you talk to the other driver's insurance company?
It's important to remember that the other driver's insurance company is only interested in protecting their customer and limiting payment to you. Your first call should be to your own insurer, whose job it is to look after your interests. The next call you make should be to a lawyer who can stand up for your rights during the auto insurance claims process. Whatever you do, don't consent to be recorded or sign anything that the other driver's insurance sends you before talking to a car accident attorney.
What happens in the auto insurance claim process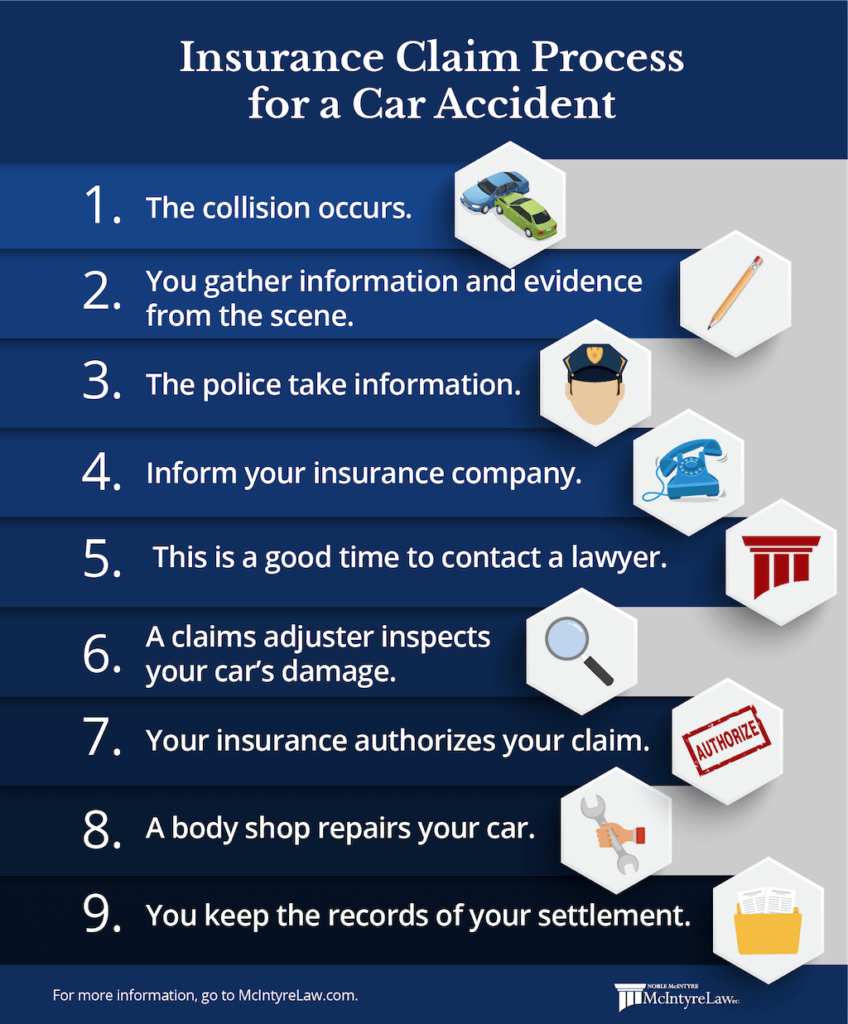 The entire auto insurance claim process, from car accident to insurance settlement (and getting back on the road), varies depending on your specific situation, but the following is the basic order of events:
Traffic accident. Before you do anything else, check to see if anyone needs immediate medical attention and move to a safe place.
Information & evidence collection. If possible, gather contact and insurance information, take statements from witnesses, and photograph the accident scene.
Talking to the police. If the police arrive, give them your information and answer their questions. Ask when their report will be ready and how to get it.
Informing your insurance company. As soon as you can, contact your insurer and inform them of the traffic accident. Ask what your policy covers and find out what you need to do next. If your car needs to be towed, ask if you need to use a specific service.
Contacting a lawyer. Although you can contact a lawyer at any step of the process, it's easier for a car accident attorney to help you if you bring them in earlier rather than later.
Inspection by a claims adjuster. Your insurance company will want to have your damaged automobile inspected ASAP. If possible, get some initial estimates on the work needed to repair the car back to its pre-accident condition. That way, you can compare them to the figure produced by the insurer. Do not start work yet, though.
Authorization of your insurance claim. If your claim isn't denied, your insurance company will inform you what they think needs to be repaired and for how much. If it's less than what the auto body shop estimates repair costs to be, the shop and your insurer may go back and forth a little longer. If you have medical bills, those will be reimbursed within the limits of your policy, after which your health insurance will kick in. Deductibles apply to your auto insurance policy, so you will pay something out of pocket. You may need a lawyer at this point to make sure you get the auto insurance settlement you think is fair.
Car repairs. Once there's an agreement on the repair costs, your car will be fixed. According to Oklahoma law, you don't have to choose a body shop that your insurance company prefers, but there may be more paperwork and delay if you insist on your own mechanic.
Settlement record keeping. Hold on to any receipts related to your traffic collision as well as documentation of your car accident insurance claim settlement. You may need them later for taxes.
What to do if car insurance denies your claim
There's no guarantee that an insurer will honor your claim. Some reasons an insurance claim can be denied:
Fraud. The insurance company says you're intentionally misrepresenting or lying about a traffic accident for personal gain.
Liability dispute. The insurer says their policyholder isn't at fault, or that the damages and/or injuries you're claiming didn't happen as a result of the car accident.
Claim not covered in the policy. Insurance says what you're asking for isn't included in your auto insurance plan.
Claimant didn't follow the policy rules. The insurance company says your behavior before or during the accident was against the rules established in the policy, meaning you broke the contract.
Unpaid premiums/canceled coverage. The insurer says they missed payments, the policy lapsed, and there was no coverage at the time of the accident.
Late notification. The insurance company says they weren't told about the accident in a reasonable amount of time and therefore couldn't investigate it.
If an insurance company denies your car accident claim, your best option is to contact a lawyer who can make your case on your behalf. And the surest way to help your cause is to gather and hold on to as much information about the accident as you can. That's why it's so important to collect evidence at the accident scene. For instance, if the other driver's insurer is denying that their policyholder is at fault, the pictures you took or the statements you collected right after the accident may prove you right — even if you have to file a lawsuit.
Sometimes an insurance company acts in bad faith. That's when they unfairly deny or limit coverage of a legitimate claim, often simply because they can. Bad-faith tactics can include stalling, lowballing, failure to explain benefits, and even abuse. Insurance companies know that many people don't have the resources to wait for a settlement or to fight in court. The only way to get fair treatment in these circumstances is by getting the help of an experienced law firm to match up against the insurer's legal team.
Tips for settling an accident claim
There are a few general rules of thumb that you'll want to follow:
Don't admit guilt or accuse anyone else at the accident scene. Emotions can run high right after a car wreck, and people often aren't thinking clearly. Still, such admissions can be used against you.
Don't talk about your car accident on social media. Even if you think it's not meant to be taken seriously, your comments can be used against you.
Don't delay in making your claim. The longer you wait, the greater the chance your claim could be denied.
Don't consent to record a statement or sign any documentation for an insurance company before talking to a lawyer.
Do your best to collect evidence at the traffic accident scene to support your case.
Do keep any and all receipts for costs related to your accident, from medical bills to rental car fees.
Do observe the schedule and deadlines set out by your insurance company to the best of your ability.
Do hire an experienced attorney to advocate for your rights.
Depending on what kind of auto insurance you have, and how good it is, you may be compensated for medical bills, the cost of car repair, towing expenses, rental car fees, and even lost wages. Damages that can't be claimed through insurance may be recovered from the at-fault driver in a lawsuit.
Get help with resolving your insurance claim
Moving forward after an accident is tough enough without having to deal with insurance companies. Even if you have never missed an insurance premium, obeyed the law, and followed every rule, there's no guarantee you'll receive a fair car accident insurance claim settlement. If you've been in a car accident in Oklahoma, call the experienced legal team at McIntyre Law. We'll fight to make sure you get the compensation you deserve.