What to Do When Your Car Gets Towed After an Accident
After an accident, your car may be towed from the scene. If your car is undrivable, the police will have you call a tow truck or call one themselves. Otherwise, you'll be allowed to drive your car away from the scene. If the police decide it's unsafe for you to continue driving your car, there are a few things you should do before the tow truck arrives.
Photograph the accident scene. Make sure to take pictures (with your phone, for instance) of the outside of your vehicle from multiple angles, the other vehicles from multiple angles, and the inside of your car. These photos can be used as evidence in your insurance claim, and possible lawsuit, later.
Gather insurance information and statements. Don't forget to exchange insurance information with the other driver(s). If possible, collect statements about what happened from them and any other eyewitnesses. You could use your phone to record them.
Remove anything of importance from the vehicle. Remember: It may be several days before you have access to your car again. Don't leave valuables or important documents behind.
If possible, find an auto body shop that can receive your car. This may not be possible if you're not local or don't have time to spare. But if you can, it's best to know where to tow your car after an accident, namely the place you plan on having it repaired. This could be an auto body shop you know and trust and/or someplace the insurance company has preapproved.
If possible, call your insurance company. You'll have to contact them eventually anyway, but your policy may cover tows under certain situations. They may require you to use a specific towing service. That said, if your car is blocking traffic or poses a risk to public safety, the police won't wait. Whoever tows it will need to be there quick.
Get documentation from the tow truck driver. Find out where they're taking your car, how much they're charging for the tow, what additional fees they'll charge, and how much storage will cost if they're taking it to their tow yard and not to an auto body shop. Make sure you get some sort of documentation — a receipt or invoice, for instance — before turning the vehicle over to them.
Note: Only give your car to a tow truck driver who has been called to the scene. Anyone who shows up before that may be trying to scam you and charge more.
How much does it cost to tow a car?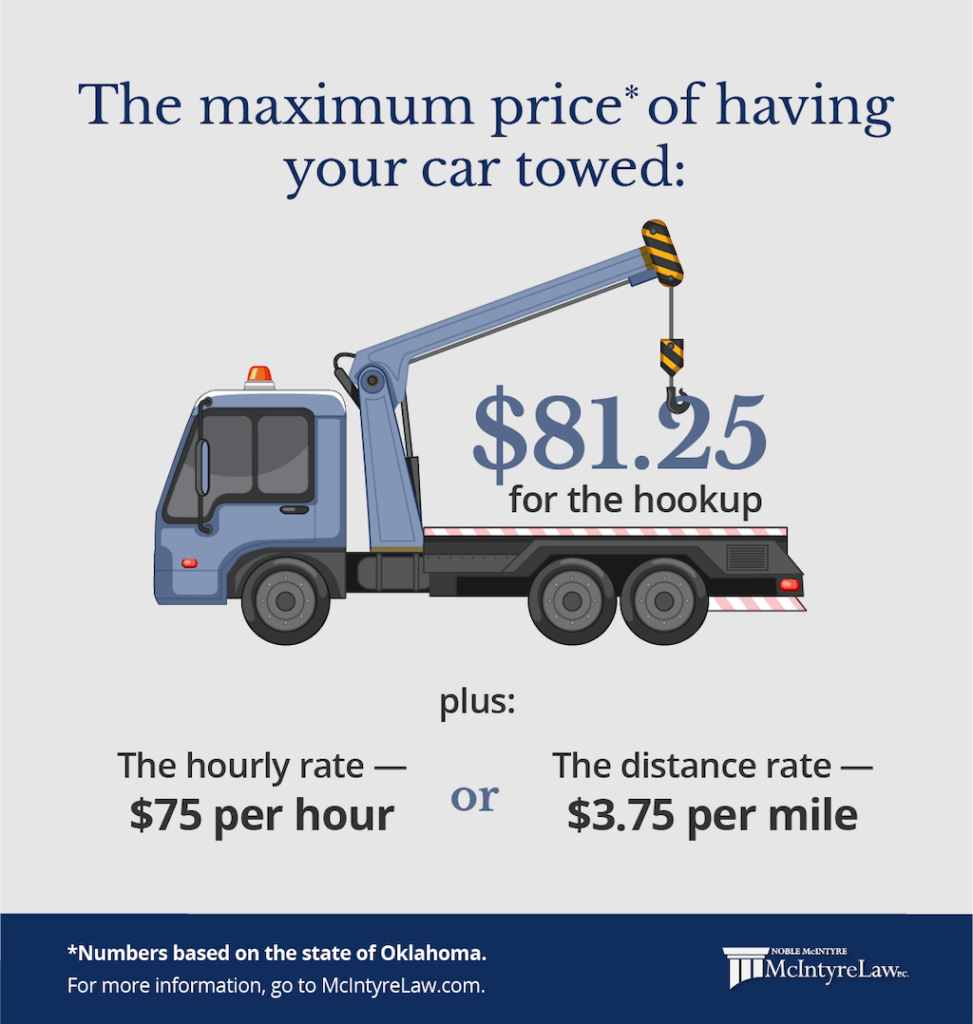 The following is the maximum amount that wreckers can charge in Oklahoma to tow vehicles weighing less than 8,000 pounds (most cars):
$81.25 for the hookup, and
Either the hourly rate — $75 per hour ($18.75 per 15 minutes)
Or the distance rate — $3.75 per mile for tows 25 miles or less, $3.13 per mile for tows over 25 miles
The maximum rates increase for heavier vehicles or for a combination of vehicles. You may find better rates, but those are the highest you can be charged under Oklahoma law. Note: Wreckers can either charge by the mile or by the hour; they can't do both.
Some other fees may apply, though, including a fuel surcharge set by the state. If any additional labor is needed, such as disconnecting the drive line, that will add to the cost. If your car has to be stored at the tow yard, that will be extra as well, starting at a maximum of $18 per day for outdoor storage and $30 per day for indoor storage.
Some auto insurance covers towing after an accident, either wholly or in part. You may be able to get reimbursed if you use the right towing service.
Additionally, how much it costs to tow a car can be greatly reduced if you have a membership in an auto club, such as AAA. Towing (up to a certain distance) may be included as a benefit.
Where will the car get towed after an accident?
When the tow truck arrives, the driver will ask you where you would like your car to be towed. You should specify which mechanic or auto repair shop you want your car to go to, but if you aren't sure, the tow truck driver or the police on the scene will likely be able to give you some options. If the driver is incapacitated when the tow truck arrives, the police may have the car towed after the accident without permission to the nearest salvage yard. This can incur additional fees, such as storage.
Does car insurance cover towing and storage fees after an accident?
Your auto insurance may cover towing and storage after an accident, depending on your policy. Some plans only cover it if you also have a roadside assistance plan. Oklahoma is an "at-fault" state, so if the other driver was at fault in the accident, then they or their insurance company should pay for towing and storage.
But you should retrieve your vehicle from storage as soon as you can. The mitigation of damages rule states that you must use reasonable care and diligence in an effort to minimize or avoid injury. That means the insurance company won't pay storage fees for any longer than they think is reasonable — and then you'll be stuck with the bill.
How to have your car towed after an accident
You shouldn't let your car be towed before the police arrive at the scene. The authorities need to know how damaged your car is so they can write it in the police report of the accident. Cars are usually towed to a mechanic, auto repair shop, or salvage yard after an accident, and this may restrict your access to it for days. You should remove important papers or belongings from your car before it's towed.
You and the other people involved in the car crash are more important than the vehicles, so take care of yourself and others first. But if you have the chance, there are some steps you can take to make your towing experience go smoother:
Find out what your insurance can cover
If you've been involved in a car accident, you should find out if you have roadside assistance, and if you do, you should find out how much you're covered for. Often, collision insurance covers towing after an accident as well, regardless of fault. Your insurance company may have a preferred towing service, and if that's the case, then you should use that towing company to tow your car.
In Oklahoma, if the other driver was at fault, you may be able to get reimbursed for towing and storage from them or their insurance company.
Call a trusted towing service
If the police at the accident scene permit it, and you're able, you can call your own tow truck. If your insurance company doesn't have a preferred towing service, you will need to decide which one to use yourself. It's important that you only call reputable towing services. If you don't know of any, look online for businesses with trustworthy ratings and reviews.
Tow truck scams exist and seek to take advantage of drivers, so be careful when choosing which service to use. Asking for your credit card information over the phone is a red flag to watch out for. And be especially cautious about any tow truck that shows up at the accident scene without being called. They may be trying to take advantage of your situation and inflate how much it costs to tow your car.
Consider your immediate transportation needs
After your car is towed, you'll need to find another method of transportation to get you from the accident scene or hospital to your home or rental car location. If you're close to your home, you can ask the tow truck driver to take you there if it's not out of their way, but they aren't obligated to take you. They have limited cab space, too, so if there are more than two people who need a ride, you'll need other arrangements.
You could call a taxi, ride-sharing service, or a friend or family member to pick you up. If you're not sure who to call, the police may be able to point you in the right direction. Make sure to save your receipts for any rides you take as well as for any rentals, especially if the other driver was at fault. You might be able to get reimbursed for them.
Know your rights when your car is being towed
There are statewide caps for much it is to tow a car in Oklahoma. For a vehicle weighing 8,000 pounds or less, the maximum hookup rate a wrecker can charge is $81.25. Tow services can charge hourly rates or distance rates, but not both. If your tow truck charges by the mile, for the same car mentioned above, it's $3.75 per mile for 25 miles or less. Wreckers charge $3.13 per mile for distances greater than 25 miles. If they charge by the hour, it's $75 per hour ($18.75 per 15 minutes), but the towing company can bill a minimum of one and a half hours.
If you're a car owner whose vehicle has been towed, you have the same rights as you would if your car was parked in a garage. Your car is still available to you, but first you must pay for the storage fees. You will not be allowed to remove your car from storage until you have paid, but you have the right to access your car and retrieve contents from inside it.
In Oklahoma, maximum storage rates for cars up to 20 feet in length range from $18 to $30 per day. Larger vehicles can have rates as expensive as $42 to $54 per day. The most you can be charged for an after-hours release is a $15 fee. Tow yards can charge you a full day's rate even if your car is there for only a portion of the day, but they can't charge more than one day's storage if your car has been in their possession less than 24 hours.
Know how long you can leave your car impounded
It's best to take your car out of storage as soon as you're able. Every day your car is in a salvage yard is an additional day's fees. Under the mitigation of damages rule, you have to try to get your car out of storage as quickly as you can. Insurance companies won't pay storage fees any longer than they think is reasonable under the mitigation of damages rule. And if you leave the vehicle for an extended amount of time — such as a month — your car may be auctioned off.
The sooner you take your car out of storage, the better.
Getting a rental car after an accident
Who pays for your rental car after an accident in Oklahoma? If you have rental reimbursement coverage as part of your insurance policy, your insurer will typically pay for a rental car until your damaged car is repaired, it's declared a total loss, or you hit the maximum number of days in your policy. There will likely be both daily and total maximums.
If you were blameless in the traffic accident, does the at-fault driver pay for your rental car? According to Oklahoma law, you could seek rental fees from the at-fault driver or their insurance company. Of course, determining who is at fault can take several days, even weeks, and they may not pay until that happens. Or, if fault is in dispute, the insurance company can deny your accident claim. In that case, if you have no rental reimbursement coverage, you'll have to pay out of pocket and try to get reimbursed later. If coverage is denied, you may want to talk to a car accident lawyer.
Can you get a rental vehicle that's comparable to your own?
If you're getting an insurance company to cover your rental fees after an accident, you can get a rental car that's reasonably comparable to the car that was damaged. If you need enough room for, say, a couple of child car seats, you should be able to get it without any pushback. But the insurance company won't pay for a rental car that's fancier than the one in the shop. Anything extra will be coming out of your pocket.
How long can you keep the rental car?
Insurance companies won't pay for your rental car once your damaged vehicle has been repaired or after it has been declared a total loss. After that, you'll be the one who pays for your rental car after your accident. Rental reimbursement coverage also will often be capped at a daily rate and a maximum number of days.
Get help after your car has been towed
Dealing with insurance and towing companies can be extremely difficult and take a lot of time, even if you do everything right. And if you had to be hospitalized and couldn't arrange the towing yourself, you may have to fight just to keep from being taken advantage of. That's why it's a good idea to talk to a good lawyer.
The experienced car accident lawyers at McIntyre law know every aspect of the law in traffic collision cases. We can help you get reimbursed for towing, storage, and rental cars as well as for medical bills, property damages, lost wages, and pain and suffering. We'll fight to get the compensation you need to move forward with your life.