Summer is approaching, the warm weather has arrived and you're looking to hit the pool. Swimming pools are always popular, but they can be dangerous too. With a few precautions, you can keep your family safe this summer.
According to PoolSafely.gov, emergency departments treated an average of 4,200 children under 15 years old for pool- or spa-related submersion injuries between 2007 and 2009. Between 2005 and 2007, there was an average of 385 drowning deaths per year of children under 15.
So, what can you do to keep children safe on your watch? PoolSafety.gov gives these recommendations:
Always keep a close eye on your child when near a pool
Teach children basic water safety practices
Keep a telephone nearby when using the pool
If your child is missing, first check the pool
Be sure that all adults who care for your child know the safety instructions
Know how to swim; teach children how to swim
Learn CPR (for children and adults) and be sure that your skills are current
Know basic rescue and life-saving in case of emergency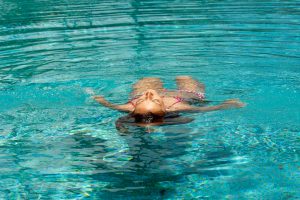 Photo credit to Flickr user khamael
Children aren't the only ones who run into trouble at the pool, however. It's important to maintain appropriate pool equipment and ensure that it's in good working order. This is not only for safety, but for liability reasons, too, if it's your private pool.
Here are a few things you can do to make sure that your pool meets safety standards, but make sure you check your local codes, as well:/p>
Your pool should have a four-foot or taller fence around its entire perimeter; the fence should have self-latching gates
If your house is the fourth side of the fence, make sure it has door and window alarms and that they are turned on
Pool and gate alarms should be in place to alert you when children are near the water
Be sure that your pool has compliant drain covers
Maintain pool and spa covers
Use an underwater or surface alarm
Be sure that you have rescue equipment including life rings and reach poles readily accessible
If you're visiting a community pool, there are precautions you can take to ensure your family's safety there, as well:
Be sure the pool has been inspected and complies with federal and local regulations
Check to see if the pumps are running
Know the location of life-saving devices including life rings and reach poles
Know whether there is a lifeguard on duty (and whether there are enough lifeguards based on the pool's use at a given time) who is trained in first aid and emergency response
Continue to be vigilant about supervising your children and knowing where they are at all times, even when there is a lifeguard on duty