For nearly a decade, McIntyre Law has been tracking and compiling research on Driving Under the Influence (DUI) crashes in Oklahoma. The data is sobering… or, it should be. Our team gathers data from the National Highway Traffic Safety Administration (NHTSA), Oklahoma Highway Safety Office (OHSO), the Fatality Analysis Reporting System (FARS) and the U.S. Census to determine trends with respect to alcohol-related accidents.
Our research shows that while a slight downward trend in the number of alcohol-related fatalities occurred between 2007 and 2015, we still have a long way to go. And, though the past three years have consistently seen fewer than 200 total DUI fatalities in Oklahoma, the number was up about nine percent from 2014 to 2015. The nine-year low during this period was in 2014, when 172 DUI fatalities occurred in Oklahoma.
Here's more of what we know:
More males die in DUI incidents than females.
The driver in a DUI crash is more likely to be a male than a female.
About one-third of DUI crashes happen in daylight; a little more than one-third happen on dark, unlit roads.
Tulsa and Oklahoma counties had the most DUI fatalities in 2007-2015, but Roger Mills and Pushmataha counties had the most by population density during that time.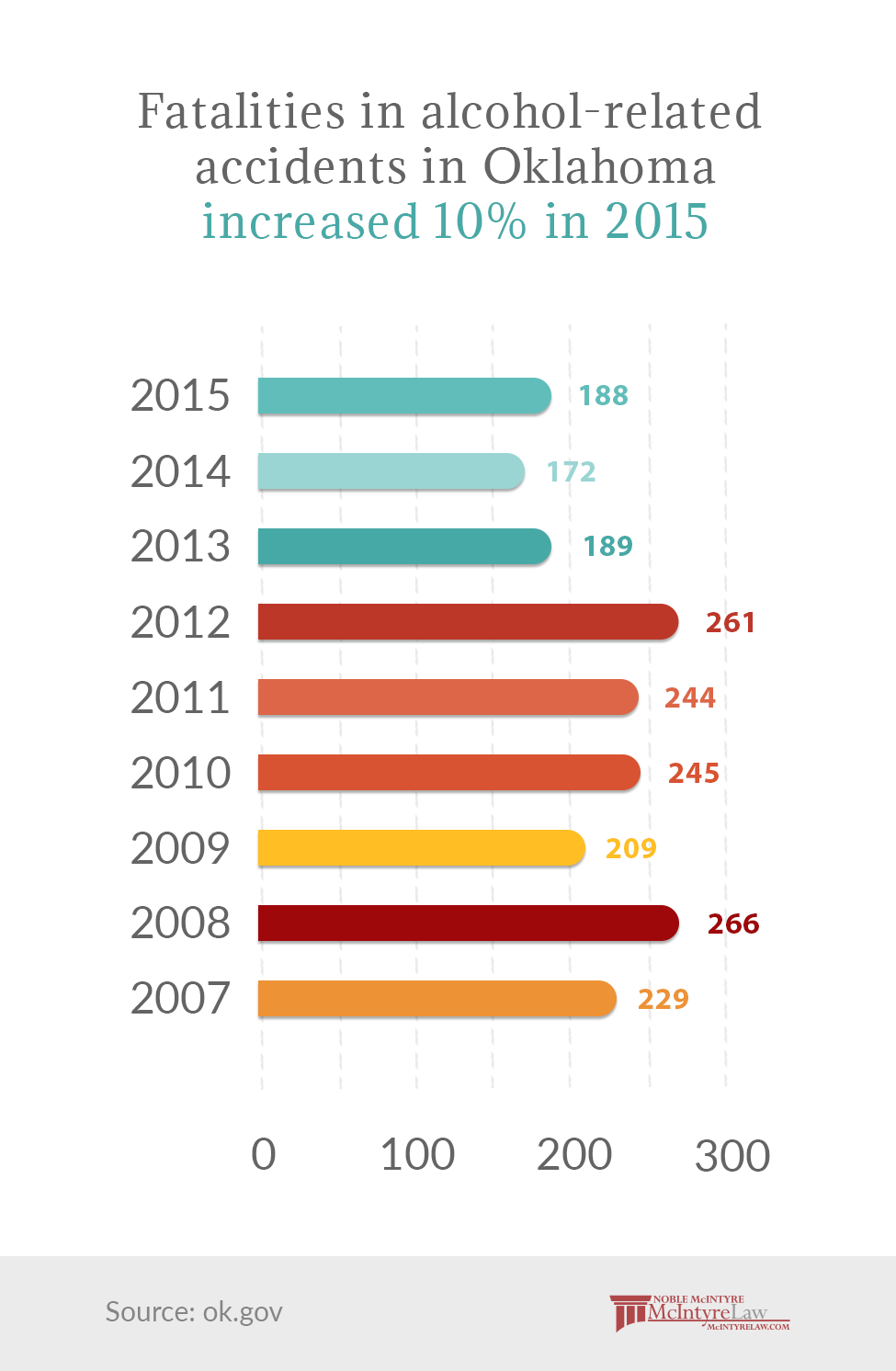 Some other statistics in the report might surprise you. Our annual DUI Report includes maps and charts that show in which Oklahoma counties DUI fatalities are most prevalent, least prevalent, and where they are trending up or down.
Why do we publish these statistics every year?
We publish these DUI statistics each year because we think it's important that the public remain aware of the dangers of drunk driving. Those 188 people who died in DUI crashes in Oklahoma in 2015 might still be alive if people would make some simple changes. For one, select a designated driver if you're heading out and intend to drink. That person should not be drinking at all and can be in charge of making sure that everyone in your group gets home safely. Another way to avoid a DUI fatality or accident is that if you're in doubt, don't hesitate to find another ride. There are plenty of options… taxi, Uber, Lyft… or call a trusted friend or family member. If there's any question about your ability to drive safely, don't take the chance. It's never worth your life or someone else's.
If you would like to help increase awareness of Oklahoma drunk driving, please join the conversation by contacting the local Mothers Against Drunk Driving (MADD) chapter nearest you:
Oklahoma MADD Chapter
Phone: 405-748-3122
Email: ok.state@madd.org
Web: https://www.madd.org/oklahoma/
Oklahoma SADD Chapter
PO Box 53277
Oklahoma City, OK 73152
Phone: 405-522-2700
Email: tiffani.henry@odmhsas.org